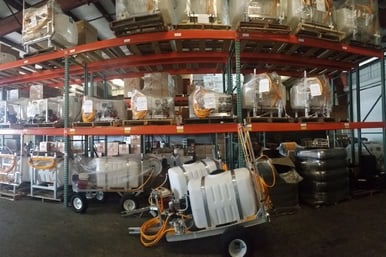 We are headquartered in sunny Orlando, FL., which is a convenient location for customers in Central Florida. However, with a customer base that extends to over 20 countries, many of our customers are not able to drop by our retail showroom. This is why all of our customers love our online store. They can purchase all of the best spray equipment on our website 365 days a year 24/7, regardless of their location.
As an online retailer, we know how important it is to satisfy customer's needs quickly and prevent long wait times. We ship hundreds of orders every day. From small sprayer parts to big spray equipment like our Kings Sprayers® product line. Shipping each order quickly is one of our top priorities. The difference between receiving your order on time and dealing with delays can have a big impact on your business operations.
How can fast shipping improve your business efficiency? Read our top 3 reasons:
1. Minimize Downtime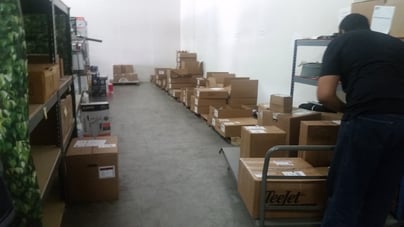 When something breaks, having the spray equipment and parts you need on time is critical to minimize the time you are out of service. With over 30,000 items, we maintain a large, in-stock and ready to ship inventory.
2. Avoid Uncertainty
Trying to figure out when an order will arrive is a hassle, and highly inconvenient. So, we make it easy for you to know when your order will arrive: we provide you with a lead time of when your order will ship, and even notify you via email with a tracking code so you can follow the order as it makes its way to you.
3. Maximize Profit
Reducing costly downtime, and being able to schedule jobs based the exact delivery time of your order, will have a huge impact on your bottom line. Your increased productivity can maximize profit by allowing you to stay on track with your daily operations. No more wasting time and resources waiting for a part to arrive!
How serious are we about providing fast shipping? So serious that we guarantee all orders placed by 3:30 p.m. (EST) will ship that very same day or the shipping is on us!*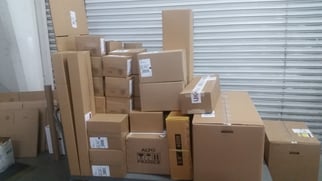 That's not all, we also guarantee that under our Quickship Program, any of our qualifying Kings Sprayers® ordered by 12:00 p.m. (EST) will ship the same day! Look for the corner banners on our website sprayer images that read "Ships Same Day" for qualifying models.
Depending on the type of shipping you choose and your location, your order will arrive within 1 to 6 business days**. We offer a variety of shipping options to meet your needs such as UPS Next Day Air®, UPS 2nd Day Air® and UPS Ground.
We understand there is more to order fulfilling than just packaging and moving boxes. Ensuring quality, accuracy, and a timely delivery is a process we've streamlined into "Our Proven Process". Learn more about it in this short video.
*Sprayers, non-stock items and LTL freight excluded.
**Standard UPS Ground Shipping within the United States.