There is no doubt that technology has grown and transformed the way we do business. The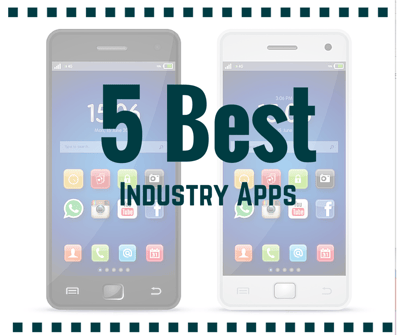 Internet has become an invaluable source of information where anything you need can be quickly found. However, keeping up with the latest technologies while trying to make the most out of all this extra information can be quite overwhelming. Having so many options tends to put us in data overload and making one single decision can become an ordeal. We want to help you simplify your business and one great way to do it is by using apps.
To make it even simpler, we have picked five of the best industry apps out there that will help you quickly get the info you need and get back to the field in no time!
SprayIT
Developer: Hypro
Compatibility: Apple and Android devices
Price: Free
This is one of our favorite apps designed to make spray tip selection a breeze! It is very user-friendly, so all you need to do is enter the appropriate information such as spacing, type of application, solution density etc., and the app will provide a customized list of tip recommendations suited for your project.
Mix Tank
Developer: Precision Laboratories
Compatibility: Apple and Android devices
Price: Free
Winner of AgProfessional magazine's Readers Choice, this is one popular app that will assist you with the proper tank mixing sequence of crop protection products. It also captures product use rates and application information and maintains it with spray logs for convenient and easy record keeping.
Vector Spray
Developer: U.S Department of Agriculture
Compatibility: Apple and Android devices
Price: Free
This is a neat app for pest control, specifically when it comes to spraying for mosquitoes. It calculates the size of spray droplets generated from various spray nozzles at different pressures while using several spray solutions. Pesticide applicators can plug in application parameters for their pesticide applications and see what droplet size range will be produced in vector control applications.
Calibrate My Sprayer
Developer: Clemson University
Compatibility: Apple and Android devices
Price: Free
We've said it many times, calibrating your sprayer is crucial for performance. This app makes calibration extremely easy! Simply select the type of sprayer you want to calibrate (Broadcast or Banded), insert values in each input box, select what you want the app to calculate (Volume/Area or Catch/Nozzle), and tap 'Calculate'.
SpraySelect
Developer: Teejet
Compatibility: Apple and Android Devices
Price: Free
Another great app to help you select the right spray tip or nozzle for your application. Just enter speed, spacing and your target rate, select your drop size category and you have a list of tips that will work for your application. The right nozzle is just a few seconds away!
Do you have a favorite app that makes your job easier? Share it with us below!