Contributed by Guest Blogger:
Mark Techler, Factory Representative - Hypro & SHURflo Ag and Industrial Pumps and Accessories
Sprayers with positive displacement pumps need some way to bypass the flow of liquid when the gun or boom is shut off. Let's compare a typical relief valve, like a TeeJet S6815 series valve, to a commonly used control unit, like Hypro GS40GI, which includes a relief valve and much more.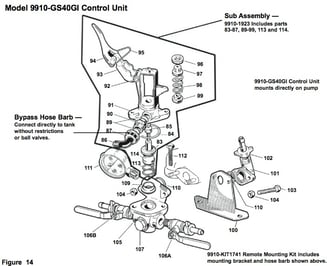 1. The control unit includes a pressure gauge. Most spraying jobs require a particular pressure and it is convenient to have a gauge next to the controls.

2. The control unit includes separate outlets for a gun (or boom) and agitation. These outlets include ball valves for shut-off or for fine tuning the flow. A typical relief valve has only an inlet and a bypass port.

3. The control unit has a pressure adjustment and release lever that can quickly change the bypass pressure to one of three broad settings or to zero psi. A fine tuning knob is also included. A typical relief valve has only a fine tuning.

4. The control unit has all these features in a compact package that mounts on the pump. A typical relief valve needs many fittings, hoses, ball valves, a gauge, and more labor to accomplish the same functions.

5. The most valuable difference is that a control unit has a spring under the relief valve poppet that unseats the poppet when the release lever is all the way up. A typical relief valve has a main spring that pushes the ball onto the seat so that, when the sprayer is not being used, chemical accumulates and causes the ball to stick to the seat over time. When the sprayer is started again with the gun or boom off, the additional bypass pressure required to unseat the sticky ball from the seat causes a pressure spike in the system that can damage the pump. When the release lever on a control unit is moved to the open position, the poppet cannot touch the seat and cannot stick, so there is no pressure spike on the next startup. Tip: always move the release lever to the all-the-way-up position at the end of the day.

Control units, typically found on diaphragm pumps, are well worth the cost because they provide more accurate spraying and longer system life.