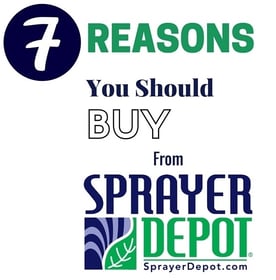 We know that you have plenty of options when it comes to buying or servicing your spray equipment. We value our customers are confident that after you've been assisted by a member of our talented team, we'll be the only spray equipment, parts and accessories source on your mind. There are many reasons to back up that statement, and these are the 7 top reasons you'll ever need:
1. Commitment: We are committed to providing you the best service in the industry. Regardless if you buy a $3,000 Kings Sprayer or a $1 O-ring, your satisfaction matters to us as we strive to WOW people by exceeding expectations.
2. Quality: We stand behind all the products we sell and manufacture. We carry all the brands you know and trust, and maintain an in-stock inventory of high quality products. Kings Sprayers, our complete line of professional sprayers, are manufactured in the USA, right here in Orlando, FL. We have control over quality and can guarantee that our sprayers are built to the highest standards of quality and with the best available parts and components.
3. Pricing: Our prices are unbeatable. You can expect big savings when buying from us, without sacrificing the quality of your equipment. We sell only the most trusted brands like Honda, Hypro, Udor, John Bean FMC, SHURflo and TeeJet, to mention a few.
4. Superior Selection: Sprayers, pumps, small engines, spray guns, nozzles and tips, hoses, hose reels, fittings, strainers and poly tanks are just some of the product categories we have available in-stock for your convenience. We have more than 30,000 products and more than 80 Kings Sprayers models available for purchase at SprayerDepot.com. And we are always expanding our product line to include the sprayer parts YOU need.
5. Expert Technical Support: Our people make us stand out from other spray equipment companies, and we have some of the most friendly and knowledgeable people in the industry. You can count on us to help you at every stage of the purchasing process. Even after you've received your order, we can help you resolve any issues quickly and effortlessly, whether it's been a week or a year after you've purchased from us. Our Customer Service Technicians are always ready to help by phone, email and even live chat!
6. Fast Shipping: We know the importance of reducing downtime, so we offer a variety of shipping options to suit your needs. You've probably also heard all about our "Order by 3:30 p.m. (EST) Same-Day Shipping Guarantee", and we've also told you about our unique Quickship® program that offers same day shipping on many of our popular Kings Sprayers. We're committed to geting your items to you fast!
7. Local Dealer: If you are located in Central Florida, we are conveniently located in Orlando, FL. We are your local, one-stop shop for sprayers, parts and accessories, and even repairs! No need to wait days for a part to arrive, we have a huge selection of in-stock items and we'll make sure you are back to business in no time. Just stop by 7800 North Orange Blossom Trail in Orlando, FL.