Calibrating your sprayer doesn't have to be time consuming or challenging. You have probably seen all the formulas and calculations involved with the process but there is an easy way to accomplish this task without having to be a math wiz.
It is important to calibrate your sprayer at least once every season, however more is definitely better. Calibrating your sprayer often will ensure an even application rate and also an effective one. This will save you time and money that you can then invest in other parts of your business.
As mentioned before, there are many reasons why you should calibrate your spray equipment on a regular basis, but an extremely important reason to consider is to avoid any mishandling of pesticides and other chemicals. When using chemicals it's important to follow the instructions provided on the label: too little could mean an ineffective application, and too much could result in serious consequences such as the loss of your grass or crop, fines, or even health risks.
Based on a recent report by the Environmental Protection Agency (EPA), farmers spend approximately $4.1 billion on pesticides annually. So if your sprayer isn't calibrated properly you could potentially be wasting a lot of money. Let's make sure you are spending your money wisely and spraying efficiently by calibrating your sprayer.
Want to know how you can avoid any mishaps and increase the accuracy of your application? Read below for the 8 simple steps to calibrating your sprayer.
Before you follow the steps, get your sprayer ready for calibration by following these tips:
Inspect your sprayer for any mechanical problems

Flush the tank and brush the nozzles to make sure they are debris free
Check the agitator in the tank to make sure it's working properly
Okay, now you are ready to calibrate!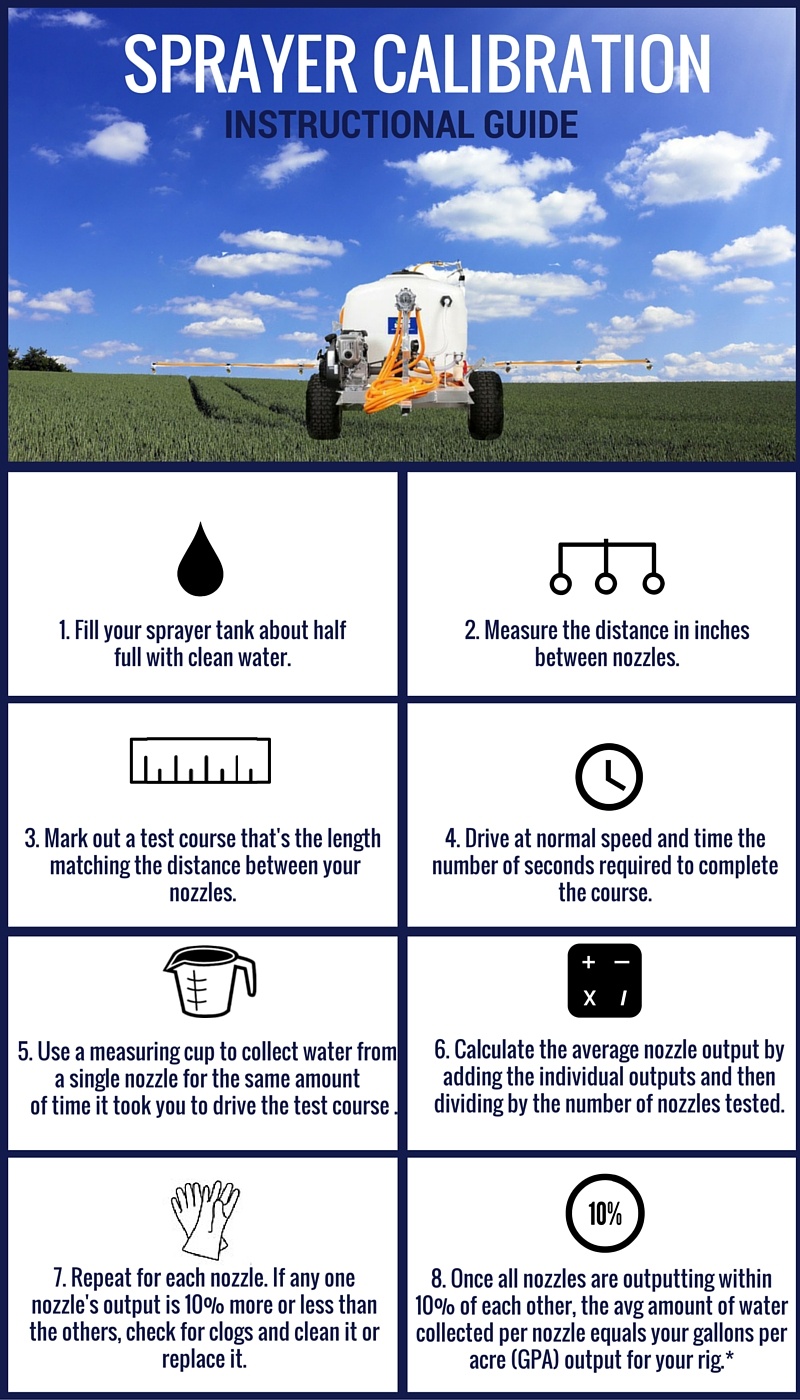 *For minor changes in output, adjust your sprayer pressure to achieve the GPA recommended by the pesticide label. For major changes, either change travel speed or nozzle tip size and recalibrate.
Have questions? Contact us today!