Backpack sprayers are an essential piece of equipment used throughout the spray industry. Numerous backpack sprayers are currently available, allowing spray applicators many options. These are some of the models that stand out from the crowd.
Solo Backpack Sprayer (Item 417)
This non-pumping, noise and emission-free backpack sprayer by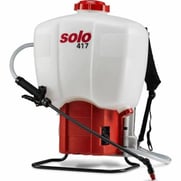 Solo suits a variety of professional spraying needs. With a capacity to hold 6 gallons of fluid, this backpack sprayer weighs in excess of 65 lbs when full, making operator strength a major consideration. Padded straps help reduce shoulder strain. Features of this model include:
12V pump (battery recharges in less than 3 hours)
AC charger included with product
High and low pressure settings
Seals and gaskets resistant to chemical corrosion
Hudson NeverPump Bak-Pac Sprayer (Item 13854)
This four gallon sprayer offers a bit of everything. Four nozzle configurations allow for great operator control and a single charge of the 12-volt lead battery delivers a 10 hour continuous spray time. The PVC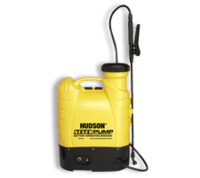 hose measures 72 inches, one of the longest standard hoses offered on current sprayer models. The battery included with the NeverPump will not slowly degrade its power source and it consistently brings 600 minutes at full 60 psi strength with each charge.
Includes AC charger that completely charges battery in 9 hours

Extra large fill opening prevents spills when adding chemicals

Bonus nozzle system with 4 different spray settings
Shurflo 12V ProPack Rechargeable Backpack Sprayer (Item

SRS600

)
The SHURflo SRS-600 eliminates the need for the operator to continually "pump up"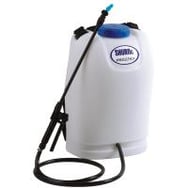 the sprayer to maintain a constant and steady spray pattern as with manually-powered sprayers, making spraying fast and easy.

The 4-gallon capacity polypropylene tank permits use with many common agricultural chemicals, such as herbicides, pesticides, insecticides, fertilizers, disinfectants, lubricants, and other solvent and water-based products. This makes the SHURflo SRS-600 perfect for weed, pest, and insect control, low-height tree spraying, and more.
Battery: 12-volt
Thick padded shoulder straps, full back pad, and waist belt for supreme comfort
Weight: 16 lbs.
Looking for a New Sprayer?
We carry a full line of sprayer options, including the complete Kings Sprayers product line including: 3-Point Hitch Sprayers, Skid Sprayers, 2-Wheel Sprayers, 4-Wheel Sprayers and Spot Sprayers.