Gypsy moth caterpillars can do a lot of damage to trees by eating all the leaves. You can often tell if trees have been invaded by gypsy moth caterpillars by looking for the black spots, under the trees, all over the ground; this is caterpillar poop. Additionally, you may see moths flying around close to the trees. Gypsy moths are most often found on Oak, Aspen, Willow, and Birch trees. Gypsy moths can be devastating for the trees and for the environment.
In mid to late spring Gypsy moths can appear on your trees along with web like nests and you can easily identify them by their yellow heads and fuzzy bodies. So if you see signs of this and you notice the leaves start to disappear from the trees, it's important to take action before the trees are damaged or even killed. One way to take care of the problem is to spray them with an insecticide.
Sprayer Depot offesr several sprayers to do the job, one being the Kings Sprayers 500 Gallon Highway Ready Trailer Sprayer with 35 gpm pump & electric hose reel.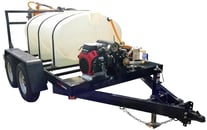 This sprayer is manufactured with top of the line components and a heavy-duty steel frame and sprays up to 35 gpm or up to 725 psi depending on your application. The extra hose length can spray hard to reach areas. Additionally, you can reach 80' vertically when you need to by increasing the pressure on the regulator.
Another excellent choice is the Kings Sprayers 200/200 Gallon Dual Tank Skid with 35 gpm diaphragm pump & electric hose reel. This particular model is manufactured witha lightweight corrosion-resistant aluminum frame. It can spray up to 35 gpm or up to 725 psi depending on your application.
And lastly, the Kings Sprayers 735 Gallon Skid with 35 gpm diaphragm & electric hose reel with 300' 3/4" ID hose is another excellent choice reaching
the heights required to spray gypsy moths. This particular sprayer can be mounted in a truck, UTV, on a trailer or even in a boat. Spray up to 35 gpm or up to 725 psi depending on the application
So if you think you need to combat Gypsy moths before they take over, the team at Sprayer Depot

can assist you with any of your questions or concerns. As one of the largest suppliers of professional spray equipment, parts and accessories in the U.S., Sprayer Depot is the industry source. With more than 40 years of experience, the team at Sprayer Depot serves the lawn and landscape, pest control, golf and recreation, agricultural and horticultural industries.