Contributed by Guest Blogger: Michael Manning, Project Manager -Sprayer Depot
2014 Improvements
To improve our customers' in-store experience, one of our 2014 initiatives involved evaluating our current retail store space in Orlando, FL and identifying possible improvements. Due to increased inventory needs associated with growth, the retail space had slowly transformed over the years into a dual-purpose area: a holding place for shipments and custom-built sprayers , in addition to a retail store for sprayers, sprayer parts and accessories. The space was dark, the floors & displays were in need of paint, and the overall space needed better organization.
1) Brightening-up the space
After consultations with a few electricians and evaluating new, efficient lighting options, upgrades were made to increase the lighting in the showroom and warehouse areas. Right away, we received positive feedback from our walk-in customers, "Something seems different". Attention to this simple detail proved to result in a big improvement.
2) Painting the floors & displays
It seemed like a simple, quick, cost-effective solution: fresh paint. It proved to be a difficult project. Since Sprayer Depot's business hours are Monday-Friday, the floor work had to be scheduled on a weekend so that customers could walk on it by Monday morning. A crew worked over the weekend. The showroom was emptied on a Friday evening. The floors and display units were cleaned and painted, and everything was back in place by Monday morning.
3) Organizing the space
Organizing a retail space requires consideration of many things including product placement, and proper spacing between displays to allow for easy navigation. Showcasing thousands of pumps, spray guns and sprayers in an easy to find manner proved to be challanging. By creating a visual model that utiized shelves, racks and tables, a floor plan was created.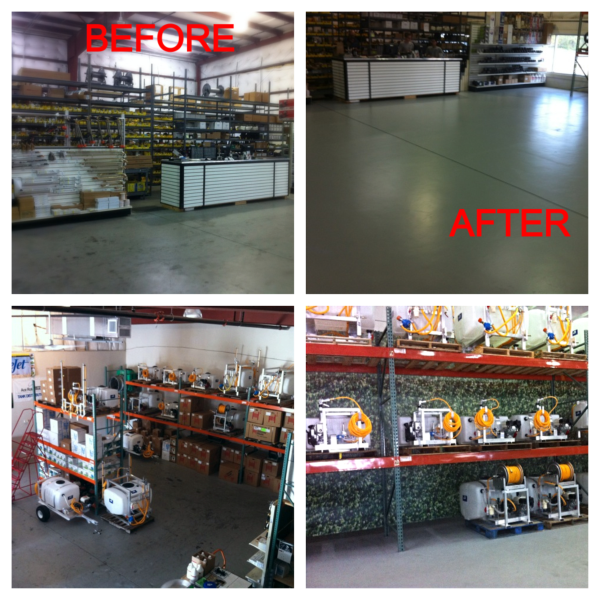 We have accomplished these initiatives in the first quarter of 2014. In addition, we've added new awnings to our building, and created a new tank holding area. And there's more to come! We're anxiously awaiting the installation of our new and improved outdoor signage. It'll be viewable from the highway so customers can easily find us. We're committed to exceeding our customers' expectations, both in-store and online.