Operating Instructions for a Kings 4-Wheel Sprayer (Model # K4C100P70-27)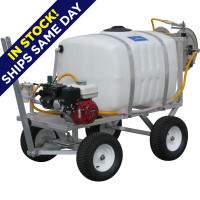 Set the on/off switch to the on position.
Set the throttle to slow.
Turn the gas on.
For a cold start, set the choke to full.
Pull start the engine.
Release the choke and raise the throttle to full.
The regulator has 4 settings.
You can set the base pressure with the adjustment nut.
The left lever turns on the agitation.
You will notice a slight drop in pressure.
The agitator mixes the tank to help evenly dispense chemical.
The right lever turns on pressure to the spray gun.
Adjust the

spray gun

to the correct setting and you are ready to spray.
Before turning off the pump, turn off the agitator and spray gun.
Release the pressure.
Set the throttle to idle.
This sprayer is in stock! Same-day shipping is available.