Less Time on Paperwork
Like professional landscapers and horticulturists, professional arborists spend a lot of time working "in the field". The use of smartphones and tablets have helped make the workday more productive for these professionals by making every day tasks such as invoicing, project management and even research, easy to complete in a non-office work environment.
If you're a professional arborist, consider downloading these time-saving and useful applications to your mobile device:
Chipero. Too many woodchips, and no place to dispose them? Try downloading Chipero to find a place to empty your chip truck! Chipero connects you with nearby homeowners, farms, schools and other organizations that want your excess wood chips. This app is free initially, but also offers the option of signing up for their discounted Supporter Plan once the trial period expires. Click here to learn more about Chipero.
Arbor Quote. Using your smartphone, send an estimate for tree care services such as tree spraying, from the job site directly to your customer. This app streamlines processes, serves customers, and helps you grow your business. Reduce paperwork and time in the office. This simple, easy to use estimator gathers and stores key data about the job right in your smartphone for future reference. Click here to learn more about Arbor Quote.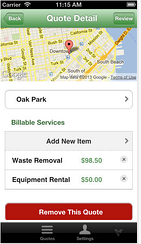 Arborist Knots. This helpful index is the mobile version of the popular knot guide at www.arbtalk.co.uk. The galleries in this app contain all of the most important knots every arborist should know, plus several extras thrown in for good measure. Download this app, and you'll never have to second-guess your knot work on the jobsite. Click here to learn more about Arborist Knots.
Talking2Trees. Are you managing a large, urban tree canopy? Talking2Trees can help you maintain straightforward tree inventories and related data, which you can then use to generate useful reports - or even export to existing GIS databases. You can view your tree inventory as a list or a map, and sync it to your office computer as a backup measure. Click here to learn more about Talking2Trees.
Tree Fungi ID App. This application provides access to a fungi directory. This is an excellent tool for assisting in plant health diagnoses while out in the field. Each fungi in the app is organized into either parasitic, mycorrhizal, or saprophytic. Fungi galleries come with a range of images, as well as descriptions and other important information.Get some peace of mind, and never second-guess your recommendation again! Click here to learn more about the Tree Fungi ID App.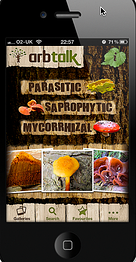 Arbor Gold Mobile Estimator. Mobile Estimator gives salespeople the ability to view phone messages and appointments, view customers and job history information, as well as create new proposals...all from the field. New proposals entered are instantly available in ArborGold Desktop Software at your office or through the internet with ArborGold Cloud Software. With Mobile Estimator you can:
-Search, view and create customers
-View and create phone messages
-View and create appointments
-View customer job history
-Create proposals
-Print or email proposals
-Integrated drawing tool
-Print and manage invoices
Click here to learn more about Arbor Gold Mobile Estimator
Leave a Comment
Are you a tree care professional using these or other useful apps? Share your experience - leave a comment!