Follow these instructions to set up your Kings 100 Gallon Skid Sprayer (Model # KS100P7027)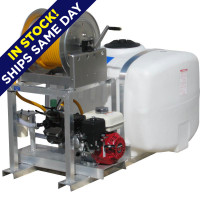 Set the on/off switch to the "on" position.

For a cold start set the choke to full, make sure the throttle is at slow, and the gas is on.

Pull-start the engine.

Release the choke and raise the throttle to full.

Note that the regulator has 4 settings.

You can set the base pressure with the adjustment nut.

The left lever turns on the pressure to the spray gun.

The right lever turns on the agitator.

With the agitator turned on, you will notice a drop in pressure.

The agitator mixes the tank and helps to evenly dispense the chemical.

With the agitator turned off there will be more pressure available.

Adjust the spray gun to the correct setting and you are ready to spray.

Release the pressure before turning off the pump.
Watch this video to see this sprayer in action!
This Kings Skid Sprayer is part of the QuickShip program – order it by 12:00 p.m. (EST) and it ships the SAME DAY, helping to reduce down time and increase productivity. Click here to see our complete line of Kings Sprayers and all QuickShip sprayers. You can also view all our instructional videos on our YouTube channel.