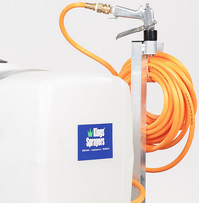 While the winter season doesn't officially start until December 21, many parts of the country are gearing up for (or already dealing with) snow. With that, our Customer Service Technicians often are asked, "How do I winterize my equipment?" or "Is there any maintenance I need to do before winter hits?" Regardless of your level of experience in the sprayer industry, this is the time of year to winterize your sprayer. Simply put, get it in tiptop shape before it sits idle for a few months. Putting in the time to prep your sprayer for hibernation now will pay in dividends come spring when the spray season picks back up.
Here we'll talk about how to properly maintain and store your sprayer for the winter with these 5 tips.
Rinse the whole sprayer system – from tank to hose, including filters and nozzles. Make sure there is no leftover spray mixture in the tank and drain all clean water to prevent freezing.

Clean the outside of your sprayer just as thoroughly as you did for the inside components, using a bristle brush to get rid of any stuck on particles.

Store any removable parts like nozzles and strainers in a clean, dry place. Gauges should be stored indoors to prevent freezing.

Check the operator's manual for recommendations on winterizing the spray pump to prevent corroding. Some allow for use of oil, antifreeze or a radiator rust inhibitor. For Kings Sprayers models, we recommend running a 50/50 antifreeze solution through the system long enough to reach any hoses and booms. Dilute the antifreeze with either water or windshield washer fluid at a 50/50 ratio for optimal solution.

Cover the sprayer so that dirt and insects can't enter the equipment. This will also ensure all the hard work put into cleaning the outside keeps your sprayer looking good when it's time to use it again.
These tips should help if you're thinking: "I bought a sprayer from you earlier this year and wanted to make sure I store it properly while I am not using it this winter." Make sure you wear protective gear when working with these materials.
Get additional information on winterizing your sprayer with this step-by-step guide.