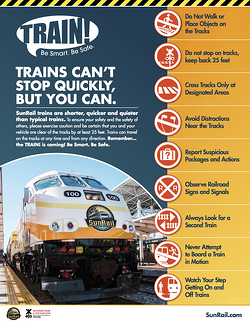 SunRail, Central Florida's new $1.3 billion commuter train that began service in May 2014, currently transports an average of more than 3,000 daily riders to and from work during weekdays. Using the existing rail system for the first phase of the project, the commuter train adds to the existing track usage by freight service provider CSX and passenger service Amtrak, making the need for additional railroad safety a high priority in the community.
So what exactly does that mean? As SunRail debuted in the Orlando market, the community
learned more and more about rail safety measures. What many think of when discussing rail safety are the aspects that involve the public's support – watch for trains, don't stop on tracks, obey the crossing arms, etc. One aspect that is often overlooked involves the sprayer industry and ensuring tracks are clear of debris.
As SunRail looks to expand its offerings with new lines that it will maintain, the commuter train system looked to Sprayer Depot for support in custom building a unit that met its needs. Keep in mind that CSX and Amtrak have systems in place for maintaining tracks that they own, it's just not something you often hear about.
How does Sprayer Depot fit in? Sprayer Depot worked with SunRail to develop a sprayer system to manage vegetation growth. We worked with the SunRail team to provide most of the sprayer system's components like a giant tank, pump, engine, connection fittings, hoses, spray gun, etc. Everything for the sprayer system, except the truck and trailer to mount it on.
So as SunRail grows, so will its eye towards safety and we at Sprayer Depot are happy we could be a part of it.Uncontrolled vegetation around railroad tracks is a huge safety and operational issue. The overgrowth can often reduce visibility for operators, pose a fire hazard and in some cases cause train delays. When you're trying to catch a commuter train, no one wants to hear the word "delay", that's for certain. So railroads have programs to proactively keep vegetation growth in check by using a combination of herbicide spray and mechanical brush cutting. The programs aim to eliminate weeds before they grow, kill those that may have already sprouted and constant maintenance surrounding tree and bush growth. One way to relate it is that it's much like how most Department of Transportation agencies operate as it relates to roadways, just for a railroad line. Instead of asphalt, it's tracks and instead of a stream of cars, it's a train.
Happy Spraying.