Back to Basics

Whether you're an expereinced sprayer operator or brand new to the job, it's important to review the proper operation of your spray equipment. Proper equipment use may help the equipment last longer, and helps keep the sprayer operater safe. For some this is a basic review, and for others it's an introduction.
Spot Sprayers 101
To start your Spot Sprayer, plug in your 2-prong, 12v power source. You can use an "L" wrench to set the pressure. The pressure comes factory set. The pump will run ONLY when the trigger is pressed. The pump will shut off when the trigger is released. Rotating the adjustable nozzle tip on the handgun will change the tip pattern from a jet stream to a cone pattern (finer mist). You can lock the handle by flipping the white switch. There is a drain located in the rear of the tank for easy clean-out.
When in need of replacement parts or service, contact Sprayer Depot by calling 800-228-0905 or visit www.SprayerDepot.com. Part descriptions and Spot Sprayer model numbers can be found in the following diagram:
Kings Spot Sprayers
Sprayer Depot is a proud distributor of the complete line of Kings Sprayers, which includes Spot Sprayers, 3-Point Hitch Sprayers, Skid Sprayers, 2-Wheel Sprayers, and 4-Wheel Sprayers.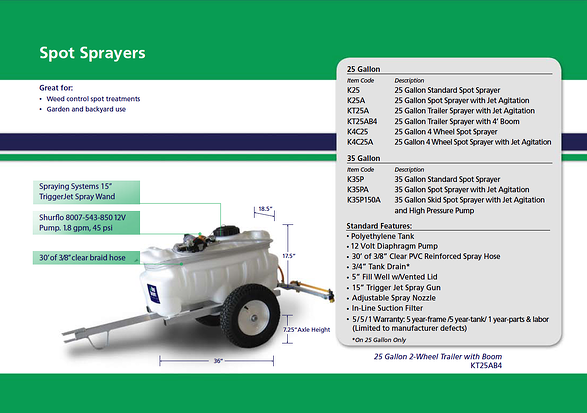 For more information on Kings Sprayers, visit their website www.KingsSprayers.com or visit www.SprayerDepot.com.