Don't forget about the Valve Kits
Most people know to replace their diaphragms when the oil in the sight glass looks milky. Recognizing when your pump needs a valve kit, however, is not as obvious.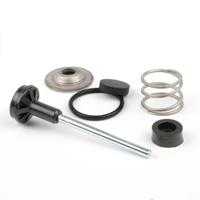 Valve assemblies tend to wear over time, which results in a gradual loss of pressure. This loss of pressure is not always noticeable. Neglecting to replace the valves in your pump can also lead to extra wear of the diaphragms and other internal parts.
What do our Customer Service Technicians recommend?
A good rule of thumb is to install a valve kit in your pump at every second diaphragm kit replacement.
Watch an Instructional Video
We've created this helpful video on how to install a Shurflo Check Valve Repair Kit. It's only 2 minutes long and will reinforce how to propertly complete this important repair.