Contributed by Guest Blogger:
Mark Techler, Factory Representative - Hypro & SHURflo Ag and Industrial Pumps and Accessories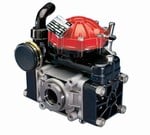 Most horticultural spraying equipment (those spraying fruits, vegetables, ornamental foliage, lawns, shrubs, and in nurseries) use either roller or diaphragm pumps. Here are some thoughts when considering which kind of pump to buy.
Match the pump to your spray material. Consult the chemical labels of the herbicide, pesticide, fungicide, or fertilizer you are pumping. Make sure you have the proper flow going to the spray nozzles or gun with enough flow left for agitation. Then match the flow and pressure to the pump performance chart. Do not buy a pump based on specifications shown on a price list. Consult the pump performance chart and notice that a pump will not perform at the max gpm and max psi. This is particularly true of roller pumps.
Match the pump to the duty. Roller pump life depends on the pump body material. Here is a rough estimate based on our tests:
Cast iron – 150 hours
Ni-Resist – 300 hours
SilverCast – 1000 hours

Diaphragm pumps, properly maintained, can last many 1000s of hours because the spray material is isolated from the drive components by a synthetic rubber diaphragm. We have seen them last over 30,000 hours. Plan on changing your diaphragms every 500 to 1000 hours of use, depending on rpm, psi, liquid pumped, and if the pump is flushed after use.
Analyze your costs. For example, both the 7560C cast iron roller pump ($154.55*) and the 9910-D30 diaphragm pump ($494.19*) will operate at 9 gpm/150 psi/ 540 rpm. The roller pump costs much less but will last a shorter time, which might make sense if you are spraying 50 hours per year. The diaphragm pump will have a higher initial cost but make sense if you are a commercial user pumping 1000 hours per year. Roller pumps can be repaired but it is difficult to predict if the repaired pump will perform close to new pump specs. For that reason, many worn roller pumps are scrapped. Diaphragm pumps will need the diaphragms replaced, but the pump will return to new pump performance.
Assess drive and plumbing. Roller pumps can run directly on a PTO shaft and will need a gear reduced engine or belts and pulleys for engine drive. The exception is 4101 series which can run directly on an engine up to 2600 rpm. Diaphragm pumps can run directly on a PTO and are available with gearboxes for engines. A relief valve, which is required for either pump, must be added to a roller pump system but is generally included as an attachment on a diaphragm pump.
If you have any questions consult the experts at Sprayer Depot.

*When purchased at Sprayer Depot