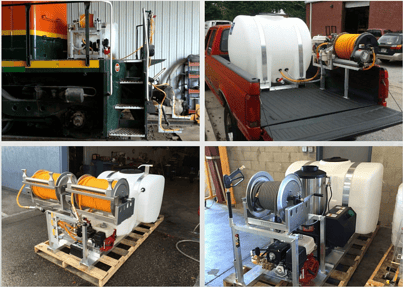 We understand that not every application or applicator works the same way. No one knows your job better than you do, so take charge of your spray equipment. Get exactly what YOU need at a price that won't break the bank.
Our team of knowledgeable Customer Service Technicians will work with you to develop, design, and build the spray equipment you want and need. We are proud of delivering excellent customer service, expert technical support, and quality sprayers that can be custom-built for your business.
We've built thousands of custom sprayers over the years, so we can help you find the best set-up for your application. Our Customer Service Technicians can answer all of your technical questions and provide you with a free quote. If price is holding you back from purchasing custom equipment, put your mind and wallet at ease. Custom sprayers are more affordable than you think, and most common modifications are relatively inexpensive.
Need more hose or a bigger tank with a different frame? We never shy away from any type of customization, regardless of how small or big of a job it may be.
Here are some examples of the most common modification requests we receive:
Extra hose reels

Switch manual hose to an electric version

Select a different spray gun

Use a bigger or smaller tank

Change the tank's orientation on the frame

Add another line on the suction side

Switch gas engine to electric start
We've built many different sprayers so we can recommend a variety of great options for your unit. We talked to Sales Manager, Brandon Grossman, who shared with us three recent custom-built sprayers:
Kings Sprayers 200 Gallon Hot Water Pressure Washer Skid Sprayer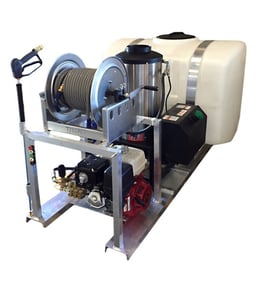 "One of our customers landed a bid for a series of mall properties. The bid required a hot water pressure washer in order to clean away all of the grease and grime in and around the building. The cold water pressure washers he used previously served only to move the grime around instead of melting it away. The solution was to build a sprayer with a water heater. The hot water not only cleans away the dirt but also allows the job to be completed more efficiently by reducing the amount of spray time needed."
Features:

13 HP Honda GX390 series electric start engine

General Pump plunger pump (4 gpm, 4000 psi)

Sprayer equipped with manual hose reel and 100' 3/8" ID hose

6061 aircraft grade aluminum frame

12V battery included to power engine
Kings Sprayers 200 Gallon 4-Wheel Sprayer w/ 7 GPM Electric Pump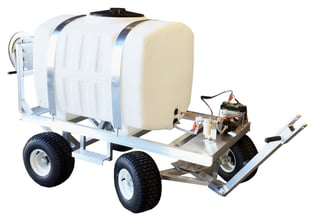 "A customer recently built four new greenhouses and needed an electric sprayer, instead of a gas engine, to reduce emissions. He also needed a pump that would supply enough flow and pressure to effectively spray at the end of a 150' length of hose. A 4-wheel sprayer was ideal for this job as it can be pulled by hand and has great maneuverability for tight spaces"
Features:
Delavan 7870-101Y-SB 12V pump (7 gpm, 100 psi)

Manual hose reel with 150' 3/8" ID hose

Battery kit included

6061 aircraft grade aluminum frame
Kings Sprayers 200/100 Gallon Dual Tank Skid Sprayer & Dual Electric Hose Reels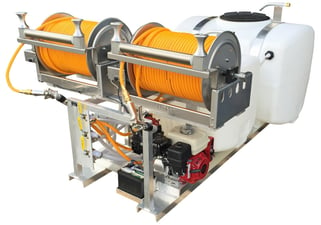 "A recent customer needed to mix water with chemicals and have two applicators spraying at the same time. We modified a skid sprayer so he could easily mount the unit on a vehicle and added an extra tank and an extra hose reel!"
Features:
5.5 HP Honda GX160 electric start engine

Hypro D30GRGI diaphragm pump (9.5 gpm, 580 psi)

Dual electric hose reels with 300' of 1/2" ID hose

Hose roller guides & fill pipes for each tank

Battery kit included for engine & electric hose reels

6061 aircraft grade aluminum frame
We've made some of our most requested modifications available as stock sprayers that you can easily shop on our website at SprayerDepot.com.
The team at Sprayer Depot is one of the most experienced in the industry, and a simple call, chat or email is all you need to get started on getting the equipment you want. Contact us today!