Back by popular demand! That's right folks, we are bringing back our ever popular Customer Highlight Contest. Now is your chance to win! Let's go over a quick overview of the contest rules and prizes: just wear your Eat.Spray.Love t-shirt and snap a picture to enter our contest. It's that simple. You could be one of THREE lucky winners to receive a FREE $50 VISA gift card and your very own Customer Highlight blog feature.
Want to make sure you have the best odds at winning? Make sure to follow these steps:
1. Submit a photo that best shows how much you love your Eat.Spray.Love t-shirt. Wear it, display it next to your spray equipment or get creative with your shot. We want to see those shirts, old or new!
2. Share it with us! Use our contest form to upload and submit your photo. You can do it through your computer or directly from your phone! You can also tag us in your photo but don't forget to make it public so we can see it.
Who will decide the winners? Our friendly team here at Sprayer Depot will so go ahead impress us, make us laugh, just take your best shot and you may win BIG!
Contest ends Sunday, June 26th and winners will be announced and notified by end of day Monday, June 27th. We will email the winners a short set of questions that can be answered and emailed back to us.
The answers will be featured in a Customer Highlight blog post and the $50 Visa gift card will be sent through regular postal service after email confirmation is received. Read more about the rules and restrictions here.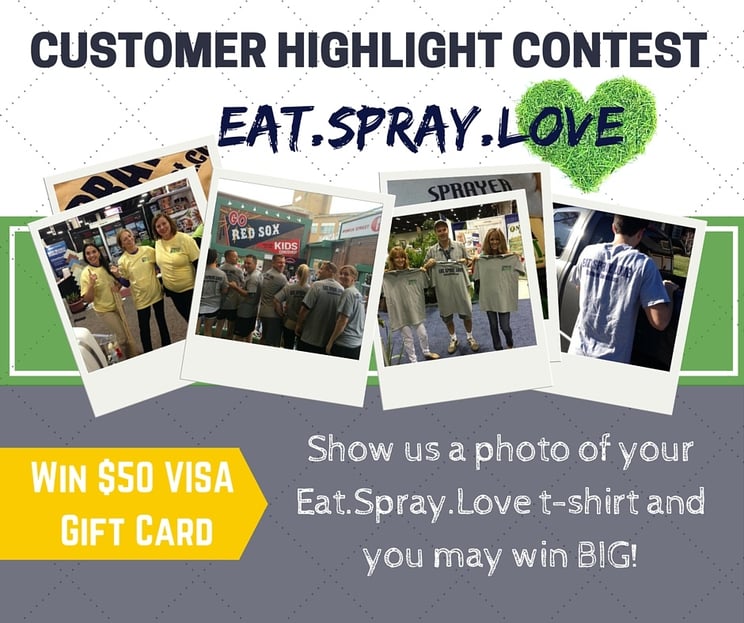 Good luck!