Hose reels are an essential part of your sprayer, but they can be easily overlooked. However, making sure that you have the correct size and type of hose reel is critical to preserve the life of the spray hose.
Hose reels are made of different types of materials with the most common being aluminum, stainless steel or powder coated steel. Our Kings Sprayers come with a standard Titan hose reel, which is made from aluminum just like our frames. We find this type of reel to be incredibly durable, heavy-duty and lightweight.
Another excellent option is the Hannay hose reel. This is probably the most popular brand of commercial reels in our industry and they also come in various materials and sizes.
A few things to consider when choosing the type of material for your hose reel are temperature resistance, strength, flexibility, and a few other factors. Our Customer Service Technicians can help match you with the best type for your project. Once you've chosen the material, it's time to decide on whether you need an electric or manual reel. As their name implies, manual reels are cranked by hand which have many benefits such as a more attractive price, but they can be difficult to use especially if you have a very long and heavy hose. On the other hand, an electric reel can seem like a big investment but they are equipped with 12V motors and a simple click of a button will reel the hose back in an easy and convenient way.
On this product highlight, we are featuring two of our most popular hose reels:
4312 Titan 12" Aluminum Hose Reel
This is one of Titan's most widely used hose reel across many industries. It is available in both manual and electric ( look for the letter E after the part number 4312 for electric rewind).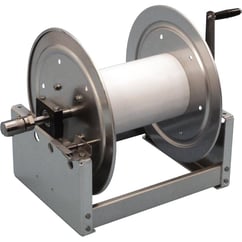 Features:
Aluminum frame and discs
PVC spool
Stainless steel tie rods and fasteners
Iron Manifold (Stainless steel manifold available for handling fertilizer and other corrosives)
Resin bearing holders with stainless back plates for corrosion resistance
Lighter weight than steel
This is a lightweight, compact reels designed for long lengths of hose in manual and power rewind.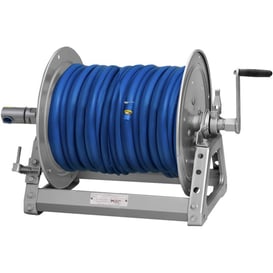 Features:
Direct crank rewind is permanently attached
Chain and sprocket drive is powered by electric, hydraulic or compressed air motor
Manual reels include: Cam-lock drag brake, spring actuated pin lock
Standard inlet is 90º ball bearing swivel joint with 1/2" FNPT threads
Standard outlet is 1/2" FNPT thread
Option roller guides available
We offer a full range of hose reel options for different types of hoses with different sizes, materials, capacities and mounting styles. We can customize them to meet your needs so just give us a call and we'll be happy to help!