Landscaper's Corner: Insights and Updates for Landscape Professionals
Contributed by Guest Blogger: Martin McGuane, owner and operator of McGuanes Landscaping and Tree Service, Enfield CT
It Starts With The Money
As Rush Limbaugh once said, the way to attract and keep good employees is to pay them well. While pay is important, it's not everything. An underpaid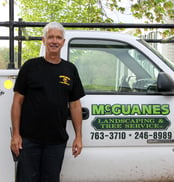 employee will never be happy, but good pay alone will not guarantee a happy and motivated employee. So let's take a look at some ways McGuanes Landscaping keeps employees happy and motivated.
Job Security
It starts with job security. Employees need stability and want to know that they have a dependable work environment. In the landscaping industry this can be done by providing work all year long, even during slow times. For example, tree work, winter maintenance, or snow removal jobs can be offered in the slower months. Business owners and managers shoiuld make a point to ensure employees have a productive and rewarding work load.
Culture of Respect
Create a culture of respect. Value each employee for what they bring to the job. At McGuanes Landscaping, we have a lot of fun and joke around, at the same time we always treat each other with respect.
Training and Development
Some things that create job satisfaction in employees are training and development opportunities, and possibilities for advancement. In the landscaping industry there are countless seminars, certifications and workshops to help employees learn more about the industry. Participating in these can increase employees' skills, helping them take on more responsibilities ,which may open up opportunities for promotion. At our company, we make it a priority to make these experiences available to employees. We sign-up the employees, pay for the training, and tell them when and where to show up. We even make scheduling changes to make sure that their route is covered for that day. We keep it easy for employees to pursue development opportunities.
If budgeting does not allow for paid or outside training, there are plenty of free tools available online. For instance, Sprayer Depot offers helpful videos on their YouTube channel like Getting Started With a Standard Spot Sprayer and Repairing a JD9-C Spray Gun O-Ring. These videos teach valuable time-saving repairs and skills that can help landscapers deal with real life equipment issues.
Rewarding Work That Matches Skills & Abilities
Another important factor in developing happy employees is creating work that's rewarding, yet also matches skills and abilities. Not all employees at McGuanes Landscaping are able to be a foreman and run a job site, some simply make great general laborers. The point is, each employee needs to be matched with a job that fits their unique ability.
Give Employees Some Responsibility
At McGuanes Landscaping, we try to give each employee as much responsibility as possible. For example, If the lawn crew is out fertilizing, one person on the truck is responsible for blowing all sidewalks, roads and driveways. This person is also responsible for leaving all paperwork. This person may be an entry level employee, but he or she owns this responsibility.
Another example is how one of our entry level employees recently asked to be put in charge of redesigning our business cards. He worked with our local printer to create several proofs for the manager to approve. This helped free up some time for the owner and helped the employee develop some new skills while learning a new aspect of the business.
Final Thoughts
Attracting and keeping good employees really does involve more than just paying them well; that's really just the first step. You need to create a company culture where:
There is job security
Employees treat each other with respect
There are training & development opportunities
There are opportunities for advancement
Jobs are matched to skills and abilities
As much responsibility as possible is given to each role
About the Author:
Martin McGuane is the owner and operator of McGuanes Landscaping and Tree Service Inc, www.mcguanes.com which has been servicing Central Connecticut and Western Massachusetts since 1987. Martin is a 1981 graduate of the University of Connecticut's School of Agriculture. He is a Connecticut licensed arborist and has a Custom Ground Supervisor license in both Connecticut and Massachusetts. He also holds a CT Irrigation License.