There are many advantages to spray equipment featuring an aluminum frame. From being chemical and rust resistant to lightweight and low maintenance, aluminum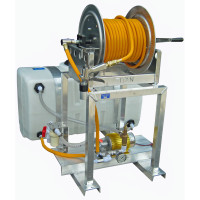 frames are durable and designed to last. These are some of the very reasons they continue to be so popular.
Sprayer Depot offers the full product line of Kings Sprayers , all of which come equipped with premium aluminum frames. Whether it's the Kings-Sprayers 3-Point-Hitch-Sprayer , the Kings Sprayers 2-Wheel Sprayer , or the Kings-4-Wheel-Sprayer, they all are designed with frames built with 6061 aircraft grade aluminum. These frames are lightweight which means easier transit and fuel efficiency, in addition to being low maintenance, meaning they'll never need another coat of paint. Additionally, all Kings Sprayers frames come with a 5 year warranty!
Need help finding the right sprayer? Sprayer Depot is staffed with a friendly and professional team that have the knowledge and experience to help you choose the right sprayer for your needs. Call 800-228-0905 or email info@sprayerdepot.com.