Hose reels are an essential tool for spray applicators, no matter the industry. By allowing fluid to pass through the hose without taking all of the hose off the reel first, hose reels increase efficiency and offer ease-of-use, while keeping the hose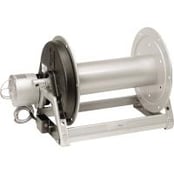 organized and out-of-the way. They are available in manual, spring rewind, and electric versions. But before you default to buying the least expensive or basic model, let's take a closer look at some of the features and benefits of each type of hose reel.
The Basics
There are two parts of a hose reel that influence what kind of hoses fit on it:
The space between the discs

The diameter of the discs
A hose reel has two discs which keep the hose in place, and a wider space between them, along with larger discs means more hose can fit on the reel. Small reels may have only 7.5 inches between the discs, but larger ones may have discs that are two or more feet apart. In the specs of each model, you'll find information about what "ID" hose each can take, that's the inches in diameter and lets you know if the reel is appropriate for large or small hoses

.


Manual & Spring Rewind Hose Reels

Hose reels can be powered by a few different sources, the most popular are manual and spring rewind. Manual hose reels require the user to physically roll the hose, using a handle or hand crank (dependent on the size and weight of the hose and reel). Spring rewind hose reels include a built-in pre-tensioned spring; once unlatched, the hose will automatically retract.

Electric Hose Reels

Electric hose reels are popular for jobs where the length & weight of the hose becomes much greater than a spring rewind can withstand, or in situations where reducing time between jobs is a top priority.

In deciding on a manual or electric hose reel, it's important to consider a few things. As their name implies, manual reels are cranked by hand and have many benefits including a more attractive price. However, they can be difficult to use especially if you have a very long and heavy hose. On the other hand, an electric hose reel can seem like a big investment but a key benefit is the simple click of a button will reel the hose back in an easy and convenient way.

Hose Reel Tips & Tricks
If you've got the space, select a reel with greater hose capacity than you require. This allows you to rewind the hose with less care and keeps the hose well protected within the disc dimension, even if the hose is not wound in uniform coils.

The hose reel swivel allows the drum to turn when the hose is unrolled and rolled. It contains rubber o-rings that are exposed to chemicas, weather conditions and heavy use. Regular inspection of the o-rings will prevent leaking and should be part of a regular maintenance program.

Keep an extra set of o-rings on hand so that repairs can be done in a timely manner
Need help? No problem. Our highly trained Customer Service Technicians can help figure out which hose reel best fits your needs, 800-228-0905.