Poly tanks are widely used in the sprayer industry to transfer and store a variety of liquids. They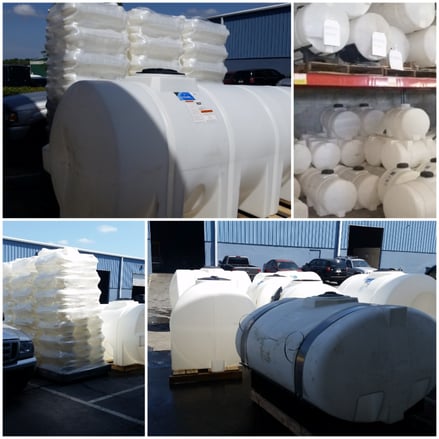 can safely handle fertilizers, herbicides, pesticides and other chemical liquids. Their durability, low-cost, ease of maintenance, and availability in a variety styles make them an attractive option for customers.
However, like every other part of your sprayer, poly tanks also need proper maintenance. Flushing it with clean water and wiping it down is an easy way to care for your tank. Doing this after every use will prolong the life of the tank. Depending on how often you are spraying and the type of liquid you are using, the lifespan of your tank will vary. Chemicals can be really harsh on your equipment, so you must ensure your tank meets the chemical's gravity specifications. Many factors can cause a poly tank to be damaged. Let's go over the most common ones:
Chemical Stress (i.e., Oxidation from chemicals causes the walls to weaken and crack.)

Environmental Factors. (i.e., The tank has deteriorated from sun exposure.)

External Causes. (I.e., A puncture from a forklift or damage by over tightening bolts.)
Temporary Repair or Replacement
When damage occurs, you might be pressed to find a way to repair the tank to avoid downtime and save money. Depending on the type of damage, you may be able to perform small repairs. However, a lot of these are just band-aids that won't last long so they're only good for a quick fix.
If your tank has a small leak or crack, you may be able to safely repair it by using a welding kit. First, you must consider the cause of the leak or crack. Was it from chemical stress, environmental or external causes? Usually, if a poly tank has been damaged by external causes and the crack is relatively small, then the repair job could potentially last a few years. However, if the crack is the result of chemical or UV degradation, then it's important to replace your poly tank as soon as possible. Why? In these situations, the internal composition of the tank has been compromised and a repair should only be a temporary fix to help you minimize disruptions until a new tank can be installed.
If a leak is coming from a fitting, then you are in luck! This is best-case scenario as you'd only need to replace the fitting.
Another important thing to consider is the location of the crack. Cracks on the side or on the top part of the tank are easier and safer to repair. If the crack or leak is on the bottom of the tank, then it should be immediately replaced.
Minimize Damage
There are a few things you can do to avoid and minimize damage to your poly tank. Let's go over our top recommendations:
Follow the manufaturer's instructions on how to safely and properly mount your tank.

Invest in a poly tank that features UV resistance.

Consider a high-density poly tank, which offers higher chemical resistance.

Protect your tank from high impact, sharp objects and other rough surfaces.
We make it easy for you to get the best product for your application. All of our poly tanks feature UV inhibitors to protect them from sun exposure and UV degradation. We also offer medium-density and high-density tanks so you can buy with confidence for the top quality tank for your sprayer. If you notice any problems with your current poly tank, our service and repair department can inspect it and offer the best solution for your situation.
For tips on how to inspect your tank to check for damage please visit our previous blog post "We Sell Poly Tanks + Tips for Inspecting Your Tank".
Please give our knowledgeable Customer Service Technicians a call with any questions about your equipment.