Let us help you take the hard work out of your next cleaning job. Our pressure washer product line offers everything you need to handle even the toughest clean-up jobs. Whether it's removing dirt or grime off of cars, driveways or roofs, or tackling a big industrial cleaning job, we have you covered. We offer a variety of Kings Sprayers® gas pressure washers and sprayers, spray tips, high-pressure hoses and spray guns, all of which will make your life so much easier when you are out in the field.
From skids to 2-wheel sprayers, 50 to 200 gallons (or more!), we have different models in stock and ready to ship. We can also customize any sprayer to your specifications.
Pressure Washers and Sprayers
Looking for equipment that will get the job done right and effortlessly? You got it! Take a look at some of our most popular models:
Kings Sprayers 100 Gallon Pressure Washer Skid Sprayer
Great for removing mud, dirt and grime from sidewalks, buildings, vehicles, houses and all concrete surfaces.
Features: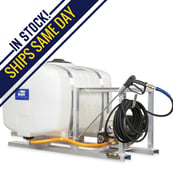 5.5 HP Honda GX160 series engine

Comet plunger pump (model #LWD3025GK) capable of 3 gpm, 2500 psi

Made in the USA

Standard sprayer equipped with 50' of 3/8" ID hose

6061 aircraft grade aluminum frame is lightweight, chemical resistant and will never rust or need painting
Kings Sprayers 200 Gallon Hot Water Pressure Washer Skid Sprayer
This Kings Sprayer features a water heater making it great for sanitizing and debris removal. It can be used in truck beds, utility vehicles, boats and trailers. There is no clean up job too difficult for this sprayer!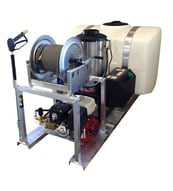 Features:
3 HP Honda GX390 series electric start engine

General Pump plunger pump capable of 4 gpm, 4000 psi

Made in the USA

Sprayer equipped with manual hose reel and 100' 3/8" ID hose

6061 aircraft grade aluminum frame is lightweight, chemical resistant and will never rust or need painting

12V battery included to power engine
High-Pressure Hoses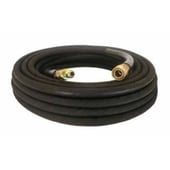 Using the right type of spray hose in a pressure washing application is crucial. Regular hoses and even agricultural hoses are not rated to withstand the kind of pressure used in pressure washing applications. You can find high-pressure hoses readily available in our inventory.
Spray Tips and Spray Guns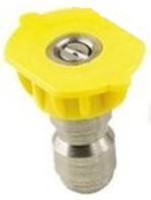 We carry a large inventory of spray tips and spray guns to ensure effective and efficient performance from your pressure washer equipment. Do you need to clean small, hard to reach areas? Or maybe you are spraying hard surfaces like brick or concrete. We have a variety of pressure washer spray tips for each application and can help you pair the best tip to your spray gun, making your job a lot more simple!