Hypro piston pumps are designed for a variety of applications. They are a common component in high-pressure washers for industrial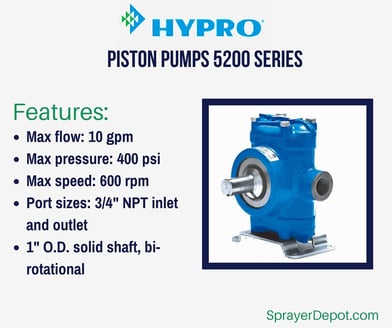 and agricultural cleaning jobs. Piston pumps are also a great option as a sprayer pump as they are able to handle a wide range of chemicals.
The Hypro Big Twin Piston Pumps Series 5200 includes Hypro's most popular piston pumps. They are constructed of cast iron body and cylinder heads. Hypro piston pumps come in a variety of cup materials that makes them resistant to a wide range of solutions. These are:
Leather: For pumping aromatic solvents and other chemicals damaging to rubber.
Fabric: For pumping most insecticides, herbicides and fertilizers.
Buna-N Rubber: For pumping soap and detergent solutions and some fertilizers.
Caring For Your Pump
Servicing your pump is easy and will extend the life of your spray equipment. Depending on the liquid you are spraying, your maintenance requirements may vary so always read the label carefully. However, there are a few standard steps you may want to follow to care for your pump:
Generally, after each use, flush pump with a neutralizing solution for the liquid just pumped. Follow with a clear water rinse. This is especially important for corrosive chemicals. Then flush out the pump with a 50% solution of automotive radiator anti-freeze containing a rust inhibitor.
If you will not be using the piston pump often, or if you are planning to store it for a long period of time, then it is recommended to drain the pump thoroughly. Open any drain plugs, remove the suction hose from the liquid and run the pump "dry" from 0 to 30 seconds. Flush with a 50% solution of anti-freeze and water. Then, just plug both ports to keep out air until you are ready to use it again, and you are done!
If you need help choosing the ideal piston pump for the job, or if you have questions that we didn't cover, leave your questions in the comment box below. If you'd like to talk to someone directly, contact our helpful Customer Service Technicians today!