Hypro roller pumps are designed for creating and boosting pressure in fluid circuits. The economical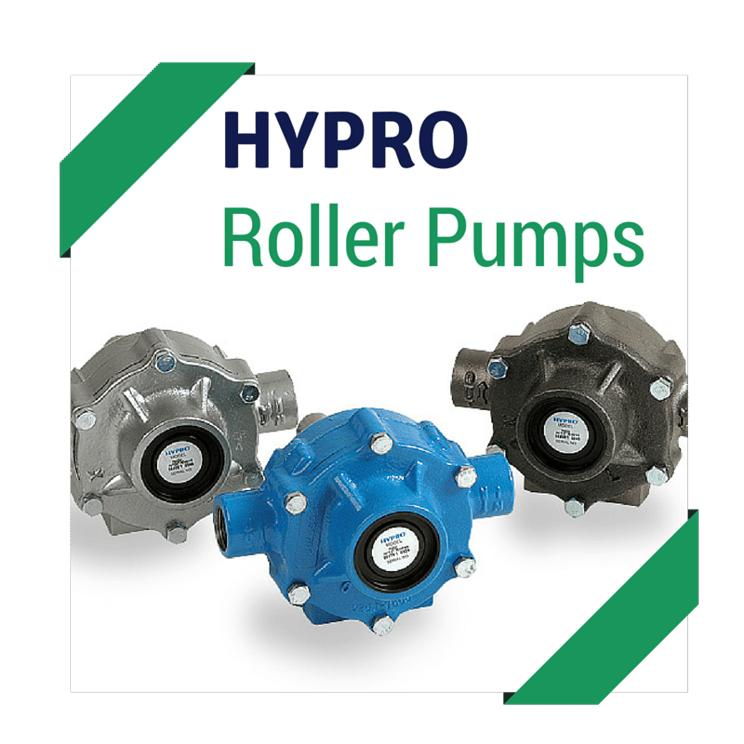 rotary-action roller principle requires no check valves, while providing positive displacement characteristics with less friction and lower starting torque than other pumps.
Ever wondered how these pumps work? Basically the pump receives fluid through the inlet port where it's captured and transported by the rollers. Afterwards the fluid is expelled through the outlet port. Easy, right?
Hypro roller pumps include housings and rollers, which come in a variety of materials that makes them resistant to a wide range of chemicals. The standard models of roller pumps rotate counterclockwise, when looking at the shaft end of the pump. However, reverse rotation roller pumps are also available if you need them.
Which Roller Pump, Rollers and Seals Should You Use?
Thanks to our friends at Hypro, who offer extensive educational resources on their website, we've put together a general guide to get you started on choosing the best roller pump for your application.
Hypro roller pumps are a versatile, economical and quality option. Nevertheless, there are certain applications that are not recommended. The following chemicals should never be put through any Hypro pump:
• Kerosene/Kerosine (paraffin)
• Diesel fuel
• Ceramic slurries
• Sewage
• Potable water
Selecting the Best Pump for You
If you are still looking for more information on how to choose the best roller pump for the job, check out our previous post "Choose the Right Roller Pump". In three easy steps you will learn how to select the best roller pump for you. If you still need help deciding, or if you have questions that we didn't cover, leave your questions in the comment box below. If you'd like to talk to someone directly, contact our helpful Customer Service Technicians today!