In pesticide or agricultural spray applications that require long range and/or height, the use of professional spray equipment is not just practical but necessary in order to effectively reach tall trees and other areas that would otherwise be out of range. To ensure that your application coverage is even you will need to use a spray gun that has enough pressure to required distances and ideally one which will allow you to make changes to the spray patterns as needed.
Here at Sprayer Depot, we carry a selection of long range spray guns that provide the optimal solutions for your spraying needs. Our long range spray guns have high pressure, high volume capacity and enough horsepower to ensure proper application and coverage so you can prevent pests and disease without ever leaving the ground!
In this post, we'd like to recommend a few of our top selling long range spray guns and also highlight their main features.
As one of our most popular long range spray guns, this Udor model is a high performance spray gun with a 21" barrel. It features a 12mm internal tubing with spray straightener which allows you to adjust your flow from a straight stream to a cone pattern simply by pivoting the front handle. With a maximum flow of 30 gpm and a maximum psi of 850, the Udor is also one of our most powerful long range spray guns.
This top rated FMC John Bean Model 785 Spray Gun provides high performance combined with ease of use. It features a maximum of 48 gallons per minute and a

maximum psi of 800 as well as the ability to swit ch from a fine spray mist to a solid stream simply by a simple twist of the wrist.
This Hypro Adjustable Spray Gun has a 21" barrel and is designed for superior performance at an affordable price. The spray pattern can be adjusted from a hollow cone to a solid stream and with a maximum gpm of 35 and an 850 maximum psi, it is considered to be one of our most reliable long range spray guns for its price.
For lightweight jobs that don't require as much volume, we recommend the Turbine Spray Gun by Udor. This spray gun has a maximum gallon per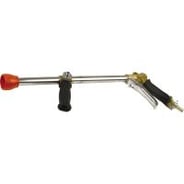 minute of 25 with a 850 maximum psi. It also features an adjustable cone mist to straight stream spray and has an 17" barrel.
if you have questions about which spray gun best fits your job requirements, call one of our Customer Service Technicians at 800-228-0905.