At Sprayer Depot, we carry all the brands you know and trust, including pump brands Hypro, Banjo, Udor, Comet, Myers, CDS-John Blue, Ace, Delavan, Du-All and more. In this post, we'll go beyond the basics with SHURFLO® pumps. For all your spraying needs, big jobs or small, SHURFLO® has a pump that will get the task done.
SHURFLO® 2088 Series diaphragm pumps deliver reliable performance in high flow, moderate pressure applications. These pumps are great for some of your more heavy duty jobs like agricultural spraying or transfer of vast amounts of fluid.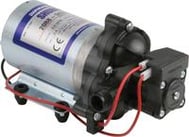 The great part is that they are designed for lots of use and are easy to maintain. They are designed with a corrosion-resistant framework and made with chemical-resistant materials so you can reliably pump the fluids you need to without worrying about damage to your equipment. They can be mounted in any position and come with a pump body that is fully repairable. What happens if you accidentally leave it running until the fluid runs dry? Nothing! These have been tested to run dry without damage to the integrity of the pump!
The 8000 Series diaphragm pump is SHURFLO®'s most widely used industrial pump. It is widely used in the agricultural and landscaping industries because it can deliver up to 1.8 GPM (6.8 l/min) providing maximum performance in a wide range of applications. These pumps are designed to provide consistent, dependable performance no matter what position you mount them in or how much you intend to use them. They are self-priming and maintain pressures up to 150 PSI. They come standard with an automatic demand switch and a built-in check valve. Like the 2088 series, these can also run dry without damage to the pump.
The SLV pump offers tremendous value for low-volume spraying needs. It is extremely cost-effective if you have a smaller sized job to do.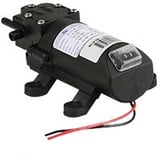 Its compact size makes it ideal for transportation to off-site jobs and has an extremely low power consumption. Like other SHURFLO® pumps, it too, is chemically resistant to prevent corrosion and breakage of essential equipment. It is also self-priming, but at a much shorter distance than the 8000 series.
You can learn more about these SHURFLO® pumps on our website or contact our customer service department to answer any questions you may have at 800-228-0905.