In this Product Highlight post, we are featuring the Kings Sprayers 35 Gallon Skid Sprayer, model # K35P150A.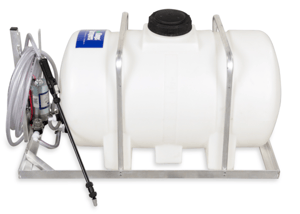 This is a great sprayer for garden and backyard use and it makes the perfect choice for commercial weed control treatments as it's efficient and easy to use! The 6061 aircraft grade aluminum frame is corrosion resistant and lightweight for easy handling. It can be bolted or strapped to a trailer, utility vehicle or tractor for field use.
It comes with a 35 gallon capacity, premium-grade polyethylene tank, 30' clear braid hose, adjustable spray tip and a 12V SHURflo pump. The 12 volt pump can be attached to a separate 12 volt battery or to a vehicle's power supply.
This sprayer is part of our Quickship™ Program, so order it by 12:00 p.m. EST and it will ship that same day!
Now, let's move on to getting familiarized with this awesome Kings Sprayer:

Safety First
Ensure all unnecessary personnel is clear of the area.
Use clean water instead of chemicals during initial testing to confirm the system and plumbing components are leak free.
Ensure there is fluid in the tank and supply line.
Check line strainer for debris or clogs and remove if any found.
Check all plumbing connections to ensure tightness.
Ensure all valves and regulators are set to the desired setting and working properly.
Check all hoses are positioned properly and undamaged.
Starting Your Sprayer
Plug the pump into a 12V power source. (Note: The pump will only run when the spray gun is in use).
Adjust the spray gun by rotating the gray nozzle at the end. It is fully adjustable from a jet to a cone, to a full mist.
Lock the spray handle by flipping the white switch.
To turn on the agitator, flip the black switch. (Note: The pressure will drop when the agitator is engaged)
Shutting Down Your Sprayer
Disconnect the pump from the power source.
If the pump will not be used for several hours, flush your system to prolong the life of the components.
Watch our instructional video below for a quick recap on how to get started with this sprayer: