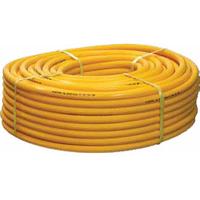 This winter has been no laughing matter. Snow has pounded the Northeast, the groundhog predicted six more weeks of winter (to our dismay), and warrants have been issued for Elsa and Jack Frost. As daylight savings time approaches (March 8, 2015) we're typically talking about how spray season is on its way. But it seems like there's no end in sight for this snow
Realizing that each part of the country is impacted by the weather in a different way, we thought it would be fitting to review some off-season inspection tips for hoses. It's a great idea to conduct an inspection on equipment that has been idle for a while, or stored for a long time. After all, if the spray pump is the heart of the sprayer, then the spray hose must be the arms of the machine.
Let's take a look.
It goes without saying that if you store your spray hose inside away from the elements it should last longer. That's why some even go so far as to remove hoses from equipment that might otherwise be stored outdoors, and choose to store the hoses indoors. Keep in mind that hoses don't have a set lifespan. The longevity of the product really boils down to how you use it, how it's stored, etc.
Your spray hose might look good on the outside, but inside it could be disintegrating or deteriorating due to stress or incompatible attachments. Use a flashlight to look inside. Alternatively, your spray hose could look bad on the outside, but appear just fine on the inside. Hoses really should look like new to a certain extent.
If the inside of the hose is rough and/or partially collapsed, replace it.
If you have to ask yourself whether the hose should be replaced, replace it.
If you're trying to convince yourself that you should keep the hose, replace it.
Now when you're actually inspecting the spray hose, look for these signs that it's in need of replacing:
Cuts or scrapes
Scuffs or rubbed areas
Burn marks
Kinks
Deformation
Bubbles
Soft spots (due to oil or grease)
Dry rot
Cracking
Bulges
Defects
Corrosion
To that end, if clamps affixed to the hose are collapsed, rusted, broken, have worn parts such as a screw or band, etc. it's a good idea to replace these parts as well.
Learn more about why hoses fail in an effort to lengthen the lifespan of this important spray part with our quick guide.