We know you've been waiting for the opportunity to win big, lucky for you the Customer Highlight Contest is back and so are the prizes! You could be one of THREE lucky winners to receive a FREE $50 VISA gift card and your very own Customer Highlight blog feature.
Want to know how to enter for a chance to win? Simply follow these steps:
1. Whether you're spraying lawns, crops or pests, we want to see it! So go ahead and submit a photo that best showcases your work. Photos are not limited to the applications above, other spraying applications in a variety of industries are also welcome:
Landscaping

Vineyards

Nurseries

Athletic fields

Golf Courses

Greenhouses

Powerwashing

Weed Management

and more!
2. Share it with us! Use our contest form to upload and submit your photo. You can do it through your computer or directly from your phone for easy access!
Contest ends Monday, March 28th and winners will be announced and notified on Tuesday, March 29th. We understand time is a valuable commodity, so we will email the winners with 5 questions that can be answered and emailed back. The answers will be used on our Customer Highlight blog series which will run in the upcoming months. The $50 Visa gift card will be sent through regular postal service after email confirmation is received. Read more about the rules and restrictions here.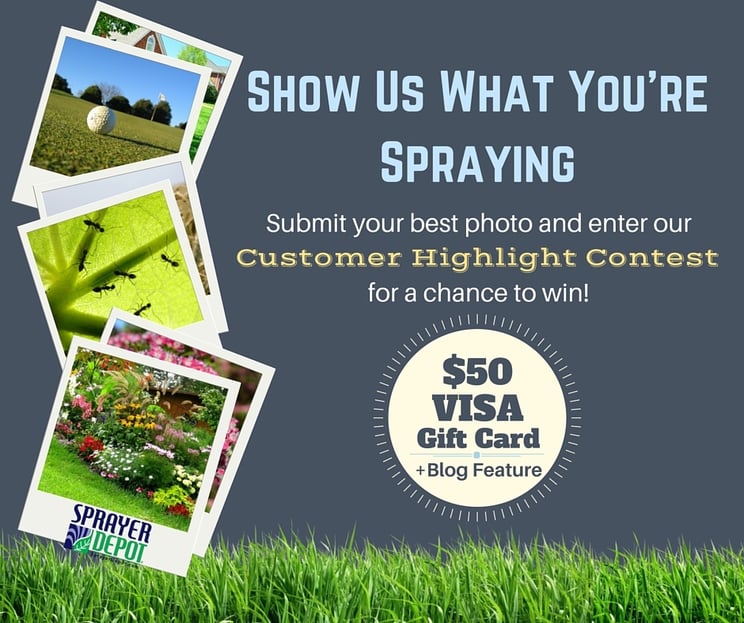 Ready to enter? Share your photo and you may win big!
Good luck!