We are one of the nation's largest suppliers of professional spray equipment and we understand what customers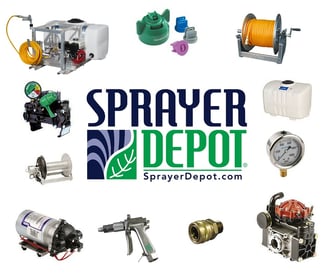 need when it comes to purchasing sprayer parts and accessories. We carry all of the trusted name brands, such as Hypro, Teejet, Udor, Hannay, Comet, and Myers, just to name a few. Our inventory is fully stocked and ready to ship!
We are located in Orlando, Florida and offer a same day shipping guarantee, which reduces downtime and helps increase productivity. All orders placed by 3:30 p.m. EST ship the SAME DAY! We also offer fast shipping options for all of our international customers. Payment options are easy, convenient and secure whether you place your order online or by phone.
We proudly offer our full line of commercial sprayers, Kings Sprayers. We manufacture them right here in our facility so whether you've got your eye on one of our standard models or want a sprayer customized to your specifications, we have what you need and will get it to you in no time.
Need service? Our service department offers same day repairs performed with quality workmanship at affordable prices. We fix all kinds of spray equipment, even if you didn't buy it from us.
We carry a wide selection of Kings Sprayers, pumps, hose reels, spray tips & nozzles, fittings, adapters and MORE!
Our philosophy when it comes to customers is simple:
1. Provide quality products at great prices
"The sprayer is excellent. It makes the job of spraying my grapes much easier than using my old electric sprayer." - H.P., Orinda, CA.
"Good job guys. High-quality products and fast delivery!! 100% recommended." - V.R., San Diego, CA.
"I am Very happy about my 55-gallon tank, I just took it out of the box and it is what I envisioned when I started to look for a tank. Thank you!" - S.A., Hallandale Beach, FL.
2. Offer fast shipping to decrease downtime
"I have never had anything ordered shipped and on my door step so fast. WOW!" - M.H., NC.
"Very happy with the way my order was handled and the fast delivery. The product itself was of great quality. Keep up the good work." - D.G., Homestead, FL.
"Needed overnight shipping for the weekend and got the product the next day. Very pleased with the prompt service." - TWR., Abilene, TX.
3. Simplify the purchasing process by providing knowledgeable and fast customer support.
"Excellent help on the phone." - B. Newburgh, IN.
"Very helpful with information about the item we were looking for." - P.W., Canby, OR.
"Very helpful sales/tech on the phone. Came across extremely knowledgeable and courteous" - E.R., Victoria, TX.
4. Offer convenient, one-stop shopping for all spray equipment
"Staff assisted me with locating replacement parts for a spray gun which parts I had previously been unable to find. I also was helped with making a selection for a new spray wand. You are the store for me." - G.S., New Smyrna Beach, FL.
"Searching and finding your website for my needed parts was easy and actually fun. I found other items I didn't even think I needed but now have just in case. When something breaks down in the field, its never at a convenient time." - J.B., Gaines, MI.
"You had the parts I needed and the transaction went smooth and quickly. Very professional." - H.E., Saint George, UT.
Thank you for choosing us as your number one source for spray equipment. Happy Spraying!