As one of the largest suppliers of professional spray equipment, sprayer parts and accessories in the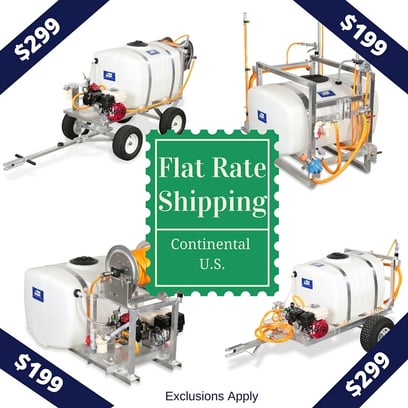 U.S., Sprayer Depot is the industry source. With more than 40 years of experience, our team serves the lawn and landscape, pest control, golf and recreation, agricultural and horticultural industries.
We are excited to offer flat rate shipping on Kings Sprayers anywhere in the continental U.S. Qualified sprayers include 3-point hitch, skid, 2-wheel, and 4-wheel sprayer models (exclusions apply*).
As we expand our customer base throughout the United States, this flat rate shipping policy removes cost concerns typically associated with traditional shipping policies.
Qualified sprayers ship anywhere in the continental U.S. for a low flat rate.
Currently offering $199 flat rate shipping on 3-point hitch and skid sprayers, and $299 on 2-wheel, and 4-wheel sprayer models (in the continental U.S.), we take pride on having a unique niche, since flat rate shipping is uncommon in the spray equipment industry.
"Expanding our manufacturing space in 2015 has allowed us to increase production of our Kings Sprayers product line" said Al Reale, General Manager of Sprayer Depot. "Our growth demonstrates that our customers are looking for a better way to purchase spray equipment that is cost-effective, reliable and convenient. Our knowledgeable Customer Service Technicians are the best in the industry, offering technical advice and solutions that allow customers to select the right sprayer and equipment to fit their exact needs."
Kings Sprayers® has been building high quality commercial sprayers for more than 30 years. Every sprayer is built from the ground up, using only the best parts like Hypro® and Udor® pumps, Honda® engines and 6061 aircraft grade aluminum frames. Durable and well-built, Kings Sprayers are made to last. Offering flat rate shipping adds even more value to your purchasing experience, and is one more way we strive to WOW you by exceeding expectations.
Ready to take advantage of this offer?
*Look on our site for the banner "Ships Same Day" for qualified models.