Sprayer Depot offers a wide variety of commercial sprayers to meet many spray application needs. From popular pest control and landscaper sprayer configurations to custom-built sprayers, there are many options to choose from. Let's take a closer looks at one some of the sprayer models made by Kings Sprayers, one of the top brands.
3-Point Hitch Sprayers
A 3-point hitch sprayer is designed to be hitched to a tractor or other large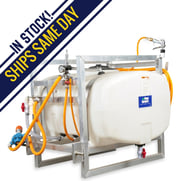 piece of machinery, in order to spray large areas like golf courses, athletic fields, pastures and lawns. This is an excellent choice to complement your existing equipment, and can be used to spray pesticides, fertilizers, fungicides and more.
Skid Sprayers
A skid sprayer is designed without wheels so it can be fixed in place. It's ideal for the back of a trailer, truck bed, boat,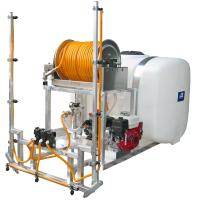 or even a train. The compact design is appealing when extra space is needed for the storage of additonal equipment. You can further maximize this flexibility by purchasing a custom-built sprayer so that it fits your exact needs and configuration requirements.
Pull Behind Sprayers
A pull behind sprayer can be hooked up to a variety of different vehicles. You can opt for an easily maneuverable two-wheel model or a stable, durable four-wheel model.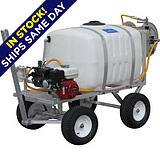 Two-wheel sprayers are excellent for spraying large-areas like sizable lawns, pastures, golf courses and athletic fields. Four-wheel sprayers are ideal for tight spaces due to their pivoting front axle and T-handle.
Spot Sprayers
Spot sprayers are an excellent choice for small areas, such as residential yards or work areas.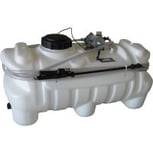 They are commonly used to spray along fence lines, buildings and, of course, to spot spray brush.
Custom-Built Sprayers
Custom-built sprayers are made from the ground up to meet exact specifications. Our team of knowledgeable Customer Service Technicians can help determine the most affordable solutions and answer any questions. Some examples of common modifications include:
Extra hose reels

Switching a manual hose to an electric version

Selecting a different spray gun

Using a bigger or smaller tank

Changing the tank's orientation on the frame

Adding another line on the suction side

Switching from a gas engine to electric start
The team at Sprayer Depot is one of the most experienced in the industry, and a simple call, chat or email is all you need to get started on getting the equipment you want. Contact us today!