At the annual Sprayer Depot holiday party there were lots of laughs, hijinks, magic (yes, magic!) and reflection on all that the team has accomplished this year. We've expanded our online product offerings and continue to focus on what you, our customers, want from Sprayer Depot.
Let's take a look at some of the highlights: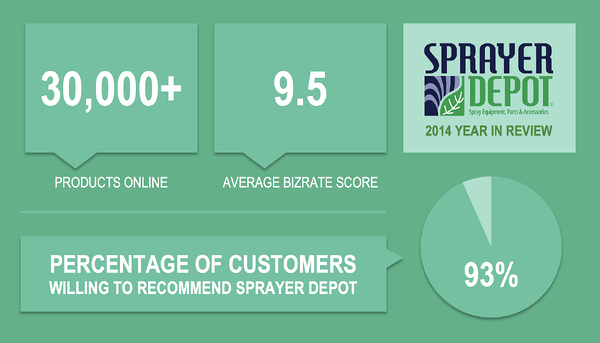 Sprayer Depot currently has more than 30,000 products available for purchase online. From sprayers to sprayer parts and accessories, we've listed most of the items we carry on SprayerDepot.com and in our showroom.
From our customer service technicians, the team is proud to share that based on customer feedback, 93% of customers are willing to recommend Sprayer Depot to a friend or colleague. Keep in mind that this rating surpassed the team's goal and is well above industry average.
As one of few companies that publicly publishes Bizrate scores, the team at Sprayer Depot set a goal for customer service to reach 9.0 or higher in the three main Bizrate categories, which include 'overall satisfaction', 'would shop here again', and 'likelihood to recommend'. Customers ranked Sprayer Depot an average 9.3 for 'overall satisfaction', 9.6 for on a scale of 1-10 for 'would shop here again', and 9.5 for 'likelihood to recommend'.
That equals lots of happy customers – when you're happy, we're happy!
Of those 30,000+ products available for purchase online, we pulled the five most popular items to create our Top 5 Products of 2014 List.
While this may not be the busiest time of year in the sprayer industry, it's the perfect time to replenish your inventory and start off the New Year prepared for whatever may happen.