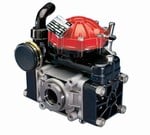 Contributed by Guest Blogger:
Mark Techler, Factory Representative - Hypro & SHURflo Ag and Industrial Pumps and Accessories
Read More
Topics: Hypro, Diaphragm pumps, sprayer, Centrifugal Pump, Transfer Pumps, Guest blog
Hypro pumps are some of the most popular items in our inventory. They are always in-stock and ready to ship. Hypro offers a wide selection of pumps such as diaphragm pumps, roller pumps, transfer pumps and piston pumps, just to mention a few. These can be utilized in a variety of industries and are capable of handling many different liquids. Transfer pumps, in particular, are widely used for spray equipment and can help you tackle both the simplest and toughest of spraying jobs.
Mark Techler, from Techler and Associates, is a Hypro & SHURflo Ag factory representative. He has extensive knowledge of Hypro products and has guest-blogged for Sprayer Depot in the past. You might have read some of his previous guest posts such as: Comparison of Roller to Diaphragm Pumps for Horticultural Spraying or Advantages of Poly Head Diaphragm Pumps.
We recently asked him to share his knowledge on transfer pumps, so continue reading below for a technical review of Hypro's top transfer pump options:
Read More
Topics: Hypro, centrifugal pumps, Transfer Pumps, Hypro Pump, Guest blog

You're on the market for a new spray pump. You have a pretty clear idea of what you need. After all, nine times out of ten it's a replacement pump that's on its last leg and in need of replacing. Not an easy pill to swallow when you have to buy one of the most vital parts for your sprayer. But where do you start?
Read More
Topics: Hypro, Udor, Diaphragm pumps, Spray Equipment Maintenance, spray pumps, sprayer, Sprayer Parts, Transfer Pumps, Hypro Pump, centrifrugal pump, Roller Pump, diaphragm pump, Udor Pumps, Diapgragm pumps, Comet Pumps, Triple Diaphragm Pumps, Pump, Sprayer Pump, roller pumps, Sprayer Pump, sprayer pumps, Roller Pump Repair, Sprayer Depot, Centrifugal Pump, Roller Pump, centrifugal pumps, roller pumps, Spray Equipment Maintenance, Centrifugal Pump, sprayer equipment, Sprayer Depot, parts, Shurflo, Banjo, Myers, Shurflo, Udor Pumps, Myers Pumps, Banjo pumps, SHURflo pumps, buyer beware, sprayer tips and tricks, customer service, price match, best price, lowest price