Backpack sprayers are widely used by lawn care, pest control and other spray application professionals who need to work in small, hard-to-reach areas where large equipment might not be the ideal tool. In addition, backpack sprayers carry more volume than a handheld sprayer thus making them an efficient option for many spray jobs.
There are many differences among backpack sprayers. Here are some variations to consider when picking the right backpack sprayer for the job:

Some models feature more durable metal pump components

Comfort is key! Since the backpacksprayer will be worn as a backpack, the comfort and design of the straps are important.

Some models are battery powered and offer hours of use from a single charge. The quiet operation of these sprayers, plus the fact that there are no irritating emissions, make them an attractive option for many.
Some models are "misters" which are commonly used in n

urseries, orchards, vineyards, and for mosquito control.
Not sure which products are right for your spraying needs?
Sprayer Depot carries a variety of backpack sprayers perfect for many types of uses. Contact our knowledgeable staff for assistance in selecting the right backpack sprayer and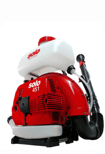 accessories. We can also assist with sprayer maintenance. Call us at 1-800-228-0905, chat with us through the website (www.sprayerdepot.com), or visit our showroom at 7800 N. Orange Blossom Trail, Orlando, Florida.
---
Sprayer Depot is committed to serving you!