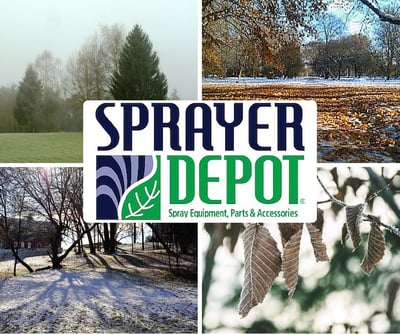 As we write this from our headquarters in Orlando, Fl., where it still feels pretty much like summer with highs in the mid-80s, many of us are really not thinking about winter time. However, we know many of our customers are already dealing with cold weather and even snow. We may not be able to share some of this hot weather with you but we can share some great tips!
Although you may not be ready to winterize your sprayer just yet, there are a few simple steps you can do today to avoid any delays when you are ready to store it for the season. We recommend five tips to help you prepare your spray equipment for the upcoming freezing temperatures.
Make any necessary repairs: Go through every part of your spray equipment and check for any component that might need to be replaced or repaired. Now is the time to get every part working properly. If you need help with any repair please give us a call to schedule a repair or service appointment. We are happy to help!


Clean the sprayer thoroughly: Grab a clean rag and wipe every inch of your sprayer down. Pay close attention to the inside of the tank and small parts that come in contact with oil or harsh chemicals.
Test the battery: If your sprayer's pump runs on battery, like one of our Kings Spot Sprayers*, make sure to test the battery and recharge it as needed.
Inspect your protective gear: Clean your protective gear and check for any damages that might pose a health risk next time you need to wear it.
Gather product manuals: It is important to follow manufacturer recommendations when servicing your spray equipment, so make sure you are not throwing away the product manuals. When the time comes to winterize you'll have the manual handy to know exactly what you need to do. If you have misplaced your product manuals you can easily find them on our website under each product.
Are you ready to store your sprayer? Check out some of our past blog posts for tips on how to properly winterize your sprayer. Also, stay tuned for even more upcoming winterization tips by subscribing to our blog!

* Can also be wired up to an ATV/Truck.