We're always looking for ways to make spray nozzle selection easier and we've shared some tips of the trade in past posts right here on our blog. With new advances in technology and an ever-evolving line-up of options, we couldn't resist sharing this Spray Nozzle Selection Guide and helpful information from our friends at Hypro.
Consider this. When selecting nozzles it's easy to determine what droplet and flow rate you need, but what happens when the chemical you are spraying changes? Does that change the nozzle you should be using?
Hypro has developed a simple set of tools that will help steer you to the correct nozzle technology while considering multiple tank mix characteristics. The Spray Nozzle Selection Guide will walk you through a series of questions to identify the correct nozzle, including:
What and when are you spraying?

Are you using an adjuvant, and if so, what type?

In your chemical Contact or Systemic?

Is your primary concern drift or coverage?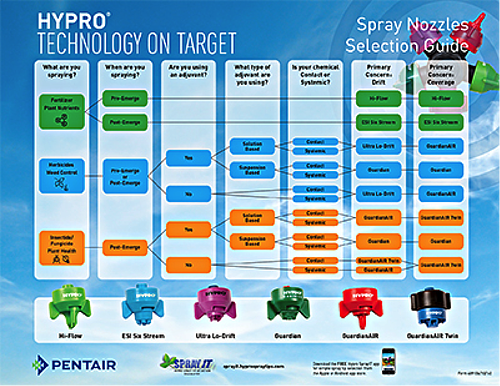 From there you'll determine which of six nozzles are best for your application. Choices include Hi-Flow and ESI Six Stream, which are best for Fertilizer Plant Nutrients. Those spraying Herbicides and doing Weed Control would be served best with the Ultra Lo-Drift, Guardian or GuardianAir nozzle types, according to the guide. Rounding out the bunch are the Insecticide/Fungicide Plant Health needs that are best suited by using the Guardian, GuardianAir or GuardianAir Twin nozzles.
Interested in more? Hypro's Spray Tip Guide digs further into the subject, providing technical details to support your selection. Some of the topics covered include:
Why different nozzles should be used when changing what you spray

How do adjuvants effect nozzle selection

When does using a Contact or Systemic chemical change your nozzle selection
If you still have questions regarding what
spray nozzle
you should use, contact one of Sprayer Depot's knowledgeable
Customer Service Technicians
.