This Kings Sprayer ( model # Kt200p70) is equipped with5.5 HP GX160 Series Honda engine and Hypro D30GRGI Diaphragm Pump (9.5 gpm, 580 psi). Follow these step-by-step instructions to operate this Kings 200 Gallon Highway Ready 2-Wheel Sprayer.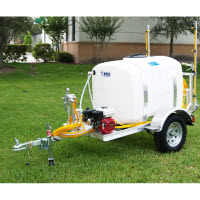 To start the sprayer, make sure to turn on the gas and choke. Then move the throttle all the way down, flip the power swith to the "ON" position and pull the starter.

Flip the pressure switch to engage the pump.

Twist the handle clockwise to increase the pressure, and counter-clockwise to decrease the pressure.

Flip the rear black switch to engage the agitator. (You will lose pressure!)

Open the front valve to send pressure to the gun.


The sprayer gun is fully adjustable from a jet spray to a cone.

To turn the sprayer off, first disengage the gun and agitator. Then disengage the pressure from the pump.


Throttle down and turn off the power switch.
Watch the Instructional Video!