Get the most out of your trusted sprayer this season by investing in a couple of accessories. We offer a variety of add-ons that can help you achieve a more precise application. If you are looking for better control of your spraying solution or an easier way to mix and load chemicals into the tank, we have the accessories you need!
We've rounded up 3 popular sprayer accessories that will help you improve your productivity and effectiveness:

Pressure Gauge: The pressure gauge allows the spray applicator to control and monitor the pressure in the tank. An incorrect pressure rate can cause an uneven coverage of your application.
We sell a wide selection of pressure gauges. They come in two styles, bottom or back mount. Available in a variety of pressure ratings from 0 to 6000 psi. These gauges are designed for use with air, gas, oil and water or any medium not corrosive to brass or bronze.
Chemical Eductor: Mix liquids and dry chemicals quickly and safely by using a

chemical eductor. Properly mixed chemicals yield effective and efficient results. Learn more about eductors by reading our previous post "Chemical Eductors Can Prevent Chemical Problems and Improve Efficacy".
We currently stock the Hypro CleanLoad Chemical Eductor 3375P series in two different gallon sizes, 4.5 Gal. and 5.5 Gal.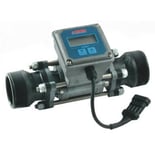 Flow Meter: Measure the flow rate of the liquid being sprayed by using a flow meter. Calculate any variation in flow rate and calibrate your sprayer accordingly. Pesticides and other chemicals should always be sprayed by following the appropriate specifications on the label.
Browse our inventory for our current flow meter selection. Hypro's Arag® and Green Garde's FlowMaster are top of the line flow meters that will help you ensure accurate flow for your application .
Ready to achieve your best spraying application yet? Check out these products and more by browsing our website. If you need help or have questions, don't hesitate to contact our knowledgeable Customer Service Technicians.