A control unit can help you achieve a more precise application by maintaining a consistent pressure in the discharge line while you spray. This allows excess liquid flow to by-pass back to a tank or drain. Using a control unit will ensure that flow is cut off at a certain pressure to ensure a safe and accurate application.
Save money in chemical costs and time by installing a control unit on to your pump. Let's take a look at one of our most popular control units: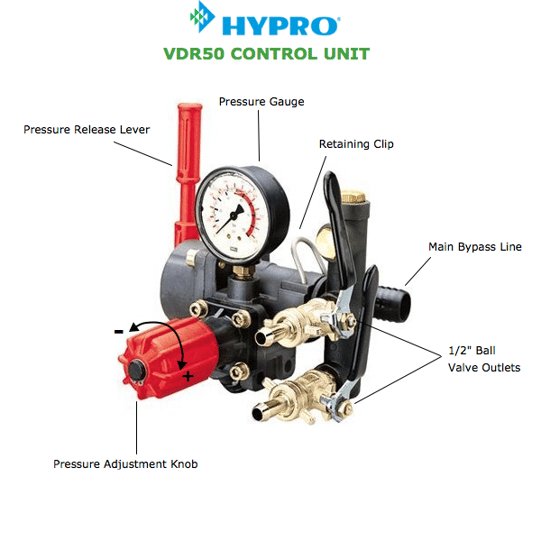 This control unit can handle flow rates up to 35 gpm (132.5 lpm) and pressures up to 725 psi (50 bar). It can be mounted directly onto the following pump models:
| | |
| --- | --- |
| Pump Name | Model Number |
| Hypro D503 Diaphragm Pump | 9910-D503 |
| Hypro D813 Diaphragm Pump | 9910-D813 |
| Hypro D1064 Diaphragm Pump | 9910-D1064 |
| Hypro D1265 Diaphragm Pump | 9910-D1265 |
We have all these pump models in stock and ready to ship! Browse our large inventory of diaphragm pumps on our website.
You can mount this control unit using two methods: Direct Mounting and Remote Mounting. Today we'll cover how to install Hypro's VDR50 using the Direct Mounting method in 5 easy steps. For instructions on Remote Mounting, please refer to Hypro's website.
Direct Mount Installation
1. First, you'll need to locate the pump discharge manifold.
2. Lubricate o-rings and plug into the discharge manifold of the pump.
3. Lock into place using the retainer clip.
4. Connect the bypass hose to the bypass port hose barb elbow. Run it unrestricted back to the supply tank.
5. Connect the desired number of high-pressure outlet hoses to the outlet hose barbs.
Please note that the unused hose barb can be shut off with the ball valves provided.
If you are trying to decide whether a relief valve might be a better choice for you, we tackled the differences between control units and relief valves on our previous guest blog post, 5 Ways a Control Unit is Better Than a Relief Valve.
Currently own a different pump not compatible with the Hypro VDR50 control unit? Don't worry, we sell a variety of control units/pressure regulators to fit your spray equipment.