---
Great for tree, lawn and herbicide spraying, the Kings Sprayers 50 gallon skid sprayer can be used in a truck bed, utility vehicle, boat and even mounted on a trailer. More than that, this sprayer has a variety of uses and is popular throughout a number of industries.
Eager to share some insider tips on how to best operate this machinery, the team at Sprayer Depot put together this instructional video to share some of the ins and outs of utilizing this sprayer. We're calling it 'Quick Set Up on a KS50P5 Sprayer'. Whether you're a seasoned pro or new to the Kings Sprayers line, we've included some helpful reminders and tips for everyone.
Take a look at the information for the Kings Sprayers model: KS50P5 below.
We've also put together this useful guide for the Kings Sprayers 50 Gallon skid sprayer that includes the following: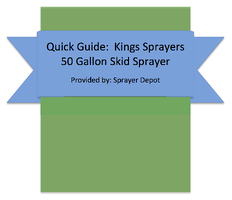 Understanding the intricacies when starting your sprayer
Critical steps to take when working with your sprayer for the first time
Tips for shutting off your sprayer
It's free too. Download your copy of "Quick Guide: Kings Sprayers 50 Gallon Skid Sprayer" then contact us if you have additional questions.