Sprayer Depot recently introduced a new video series called "Tuesday Spray Tips", specifically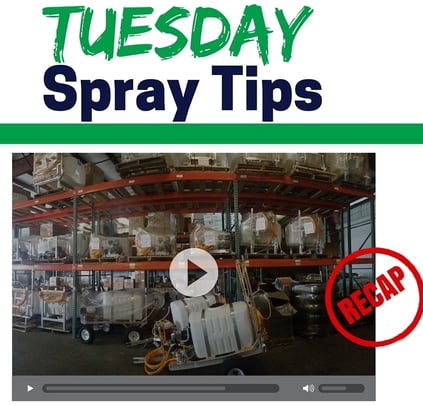 designed to share spray equipment information in 30 seconds or less, twice a month. We are so excited about the response to the new videos, we are tipping our hats off to each and every one of our customers who has watched, shared, liked and commented on the videos. Thanks for your support!

Just in case you've missed them, we will share a brief recap every month where you'll have the opportunity to get caught up and watch the videos. (Or just watch them all over again!)

Let's take a look at May's Tuesday Spray Tips videos:

We started off with a short video showcasing one of our recent custom-built sprayers. The Kings Sprayers 200 Gallon Hot Water Pressure Washer Sprayer features a hot water heater making it great for sanitizing and debris removal. It can be used in truck beds, utility vehicles, boats, and trailers. There is no clean up job too difficult for this sprayer! Check it out:

Our next Tuesday Spray Tips video features an inside look at the Hypro Diaphragm Pump D403. This is a very popular pump recommended for spraying herbicides, pesticides, liquid fertilizers and many other hard-to-handle fluids. We also shared 3 maintenance tips to keep your pump in tip-top condition:


Sprayer Depot is a one-stop shop for all your spray equipment needs, which is why we are showcasing our repair and service department in this next video. We take care of your orders and also any maintenance or repairs needed on your equipment. Learn more about getting your repair done through us by watching this video:



The last Tuesday Spray Tip of the month goes over our money-saving deals. We tell you how to snag a big discount on your spray equipment. Want to know how? Watch the video below!



Do you have a suggestion you'd like to see featured as part of our Tuesday Spray Tips? Leave us a comment in the section below. You can also catch more informative videos by visiting our YouTube Channel.