You may already be expertly familiar with your pump's pressure regulator, or you might be on the other end of the spectrum wondering how exactly a regulator works. You may call it a control unit or an unloader as these are often terms used interchangeably to describe the same part. Just in case you need a reminder, let's do a quick recap on what a pressure regulator does.
A pressure regulator is responsible for maintaining a certain pressure rating in the discharge line. This allows excess liquid flow to by-pass back to a tank or drain. Basically, the regulator will cut off the flow of liquid at a certain pressure to ensure safety in various applications.
Using a pump's pressure regulator is as easy as turning a lever to the right direction. However, not every diaphragm pump works the same so it is best to check your manual and follow the directions. To make it easier, we've created a simple infographic with steps on using the regulator on five of our most popular diaphragm pumps.
If you are interested in learning even more technical facts about pressure regulators/control units, take a look at our previous guest blog post highlighting 5 Ways a Control Unit is Better Than a Relief Valve.

In the meantime, check out our infographic below: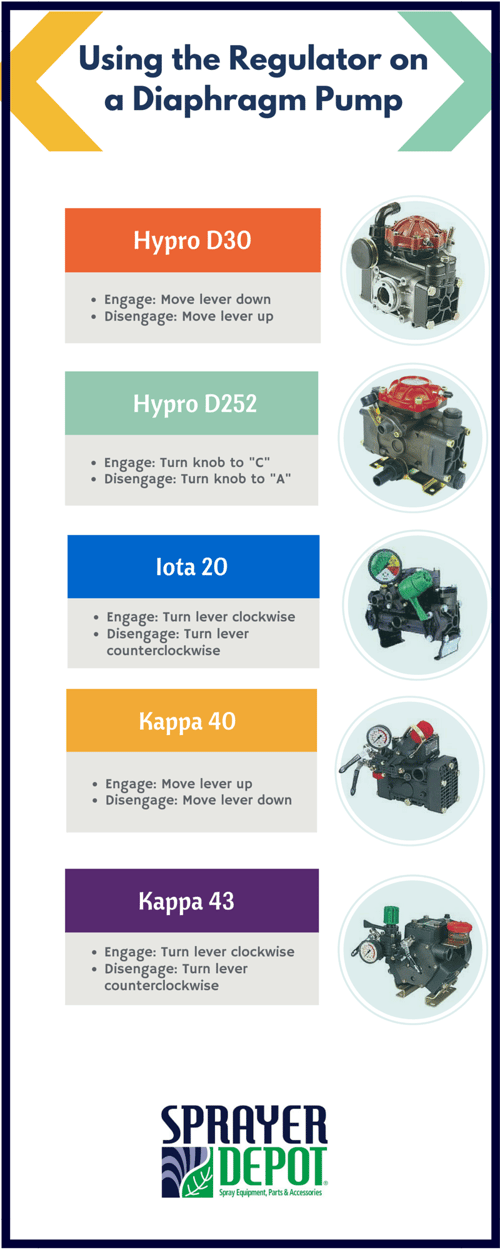 Even though using the regulator can be pretty self-explanatory, it pays to always check to make sure you are using it according to manufacturer's directions.