Spring is almost here! Two weeks ago during Groundhog Day, Punxsutawney Phil officially forecasted an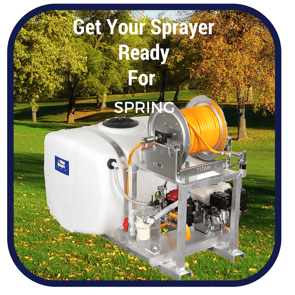 early spring. However, don't be so quick to pull out the shorts or store your winter coats just yet. According to the U.S. National Center for Environmental Information (NCEI) we still have a few more weeks of winter to go.
Nevertheless, it is important to start thinking about being ready for spray season. As we always say, it pays to be prepared!
The first step to get your spray equipment ready is to de-winterize it so you can service it before you begin spraying. Let's look at three easy tips on how to de-winterize your sprayer:
1. Temperature Check: Although we wish we could rely on the weather forecast accuracy of a groundhog, the truth is we still need to make sure the temperature is warm enough before we start running the sprayer. You don't need to wait for a sunny day in the 70's, just make sure the temperature is above the freezing point of water (32° F).
2. Flush it out: If you took care of your sprayer by winterizing it before storing it then all you need to do is flush it out with clean water and wipe it down for good measure. You will also want to lubricate the pump following the manufacturer's recommendations and add oil to the engine before first use.
3. Restock your inventory: We encourage customers to have a sprayer emergency kit with spare parts and accessories they can use in case something breaks. Now is the perfect time to check and re-stock your inventory. Save time and money and contact us today with your order!
Our wide selection of spray equipment, parts and accessories are in-stock and available to ship today so shop now and get ready for spray season!