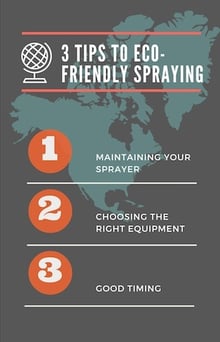 We often talk about tips to get the most out of our sprayer but how about tips to minimize our ecological footprint? Today we'll talk about ways to reduce our impact by spraying responsibly. These 3 tips are easy to implement and will have a positive impact on our environment.
1. Maintaining your Sprayer
Spraying season is here, this means your trusted sprayer needs to be serviced more often than usual to minimize waste. Replacing worn-out spray nozzles, calibrating your system, changing the oil, and inspecting the hose are just a few of the things you need to do to make sure your sprayer is working as efficiently as possible. Routine maintenance of your equipment will help keep water and chemical waste down and productivity up.
2. Choosing the right equipment for the job
Would you use a saw to cut paper? Didn't think so! It is important to choose the right sprayer for the size of the project. When selecting your sprayer, consider the type of project and the coverage area to determine the right pressure and droplet size to maximize efficiency. You want to make sure you are not overdosing and causing unnecessary pollution and contamination.
3. Timing truly is everything
Our last tip is to remind you of the importance of good timing. Decide when and how often you should spray. Take into consideration the weather and how the temperature can affect your spraying efforts. Good timing will not only provide cost-saving results but will also reduce the amount of chemicals used.
Whether your project is big or small, these tips can help your business become more eco-friendly. Spray safely and responsibly!