Landscaper's Corner: Insights and Updates for Landscape Professionals
Contributed by Guest Blogger: Martin McGuane, owner and operator of McGuanes Landscaping and Tree Service, Enfield CT
In the landscaping industry, one of the biggest business expenses is for trucks and equipment; every landscaper wants brand new, shiny trucks and equipment.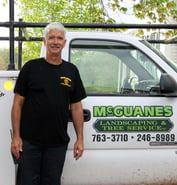 While the temptation to buy all new equipment and trucks is there, it's important to take a close look at the dollars and sense of buying new or used.
Our First New Truck
I remember when I first started out. Money was tight and our budget was lean. So, we bought a used truck for $6000. In two years, we spent $4800 on repairs before finally replacing it. A few years later, while 'crunching the numbers' one winter, I realized that I was spending $200 per month on each vehicle in repairs. It was at that time that we decided to buy our first new truck.
While 'crunching the numbers' the next winter, we were surprised to realize that we saved a lot of money on our new truck purchase:
We saved a fair amount on taxes

There were no repair bills

Our fuel consumption went down
The bottom line was that the new truck probably only cost us about $100 per month more than continuing to run the old truck. Plus, we had the added benefit of not having any down time and the improved company image a new truck brought us.
That was 25 years ago. But the lesson I learned is timeless...know your numbers!
Purchasing New Equipment
The decision process to purchase equipment is very similar to buying a truck. The first step is to define the need: Do you need to buy a 1,000 gallon sprayer with tall tree capabilities to if your plan is to only spray crab apples and birches? The answer is "no".
It's important to properly maintain all equipment ; over time the regular maintenance turns in to costly repairs. Once again, it's important to 'crunch the numbers' and figure out at what point the repairs no longer make sense and when it's time to replace the old equipment with new.
This is sometimes a tough call to make.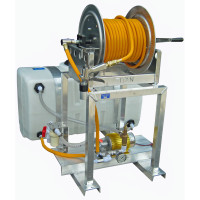 None of us are immune to the sticker shock of a $10,000 sprayer, but if you spent $2,500 in parts last year to keep a 12 year old sprayer running, it probably makes sense to replace it with a new one.
When buying new equipment such as a sprayer, do your research! Don't run to the closest brick and mortar shop to buy whatever is in the showroom. Instead, we recommend building relationships with vendors you can trust. For example, we use Sprayer Depot for all spray equipment, including replacement parts for existing equipment like a JD9-C Spray Gun. In our business, time is money and we try our best to eliminate downtime, so we especially like Sprayer Depot's same day shipping guarantee.
Know Your Needs
A key component to knowing your needs is having a solid business plan in place that identifies both short and long-term goals and determines specific equipment needed to successfully execute the plan. Figure out the true cost of running that all equipment.
Having a disciplined approach to keeping track of maintenance and repair costs will help you make the right decision when considering whether to repair or replace, and whether to buy new or used.
About the Author:
Martin McGuane is the owner and operator of McGuanes Landscaping and Tree Service Inc, www.mcguanes.com which has been servicing Central Connecticut and Western Massachusetts since 1987. Martin is a 1981 graduate of the University of Connecticut's School of Agriculture. He is a Connecticut licensed arborist and has a Custom Ground Supervisor license in both Connecticut and Massachusetts. He also holds a CT Irrigation License.