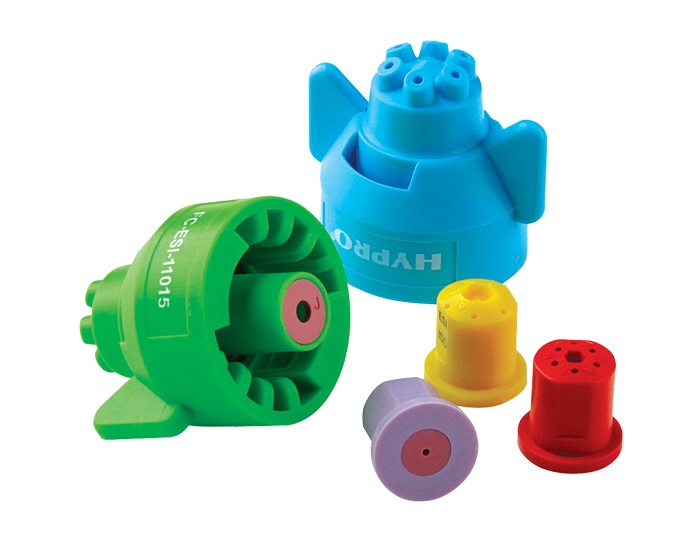 Spray tips may be the most neglected component in your sprayer. We sell the best, most reliable and highest quality spray tips on the market, like Hypro and TeeJet. Let's face it though, even the best tips don't last forever. All spray tips wear out and eventually need to be replaced. A worn out spray tip can result in improper chemical application which can often have serious consequences including loss of crop, wasted money and even potential health risks.
The life of a spray tip depends on the abrasiveness and corrosiveness of the spray solution, so it's important to select the right spray tip for the application. Replace spray tips and nozzles immediately if you notice a change in flow rate or a change in pattern distribution.
Consider These Factors
The output per minute on a spray tip depends on the operating pressure and the size of the opening of the orifice. These can be easily calculated to help you determine the best spray tip for the job. There are some basic calculations required when selecting a spray tip, so it's important to have all the necessary information in advance. Gather the following information:
The desired volume of spray output per acre

The expected operating pressure

The travel speed of the sprayer

The nozzle spacing on the boom
Always follow the manufacturer's recommendations when it comes to the output per acre and orifice size. Once the nozzle spacing and the travel speed are known, follow the manufacturer's tip application guide to identify the appropriate spray tip. If you are using a Hypro spray tip you can find the Tip Application Guide by clicking here. For TeeJet's Tip Application Guide please click here.
Proper Cleaning is Key
Be sure to carefully clean spray tips in order to ensure accurate chemical application. Even the slightest damage caused by improper cleaning can result in increased flow rate and poor spray distribution. You should use only a soft-bristled brush or a toothpick to clean them. Avoid using metal or sharp objects because they can easily damage your tips. If the spray tip is made of a soft material, use extreme care when cleaning. Even a wooden toothpick has been known to distort the orifice so TLC is needed when taking care of your spray tips.
If you need assistance selecting the proper spray tip, a Sprayer Depot Customer Care Technician can help. Call 800-228-0905 or visit www.SprayerDepot.com.