When it comes to your pressure washing business, the equipment you use can make a big difference in the quality of your work. Sometimes it's easy to "just make do" and buy the cheapest option in the market. While this might seem like an attractive strategy to lower your expenses, in the long-run it probably won't be the financially-sound decision you initially thought it was. Fortunately, when it comes to pressure washing parts and components, there are plenty of manufacturers such as Hypro and Myers who offer reliable and quality products, all at great prices.
Today, we are featuring 4 of the most popular plunger pumps series in the pressure washing industry.

Myers CX10-15AV High Pressure Reciprocating Piston Pump
The CX series offers rugged design focusing on durability for continuous operation at maximum pressure and flow. One of its best-selling features is its versatility with three suction ports for different installation options.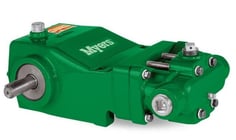 Features:
Flows to 10 gpm

Pressure ratings up to 1,500 psi

Constant lubrication of all power end parts

Spring loaded chevron style packing
Myers DP80-20 High Pressure Reciprocating Plunger Pump
The DP series offers Myers highest volume/pressure plunger pumps available in their product lineup. They feature interchangeable plungers, seals, and fluid ends to provide various flow/pressure ratings. It is also available in hydraulic drive configuration.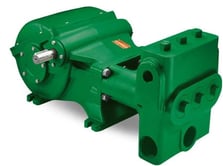 Features:
Flows to 79 gpm

Pressure ratings up to 2,000 psi

Internal gear reductions of 3.95:1

Non-scoring plungers

Suction and discharge located for easy service

Offerings of seven interchangeable plunger and seal packages

Hypro 2430B-P Powerline Plus Plunger Pump
These Hypro pumps are designed specifically for the car wash and pressure washing industry, resulting in pumps that deliver higher pressure and increased reliability for even the toughest cleaning jobs.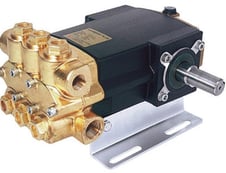 Features:
Flows to 4.3 gpm

Pressure ratings up to 3600 psi

1725 max rpm

1" OD solid shaft

3/4" NPT Inlet, 1/2" NPT Outlet

Bronze piston guides give you larger bearing surface for extended life on oil seals and plungers
Hypro 2340B-P Powerline Plus Plunger Pump